After the photographs in the exhibit were installed, the Gallery Partners selected their favorites. We also had a bit of a competition where the visitors during the two show receptions made their "People's Choice". Congratulations to the three winners, who each received an award of $100.
Partner Choice
Eating Alone Again
by Tom Kredo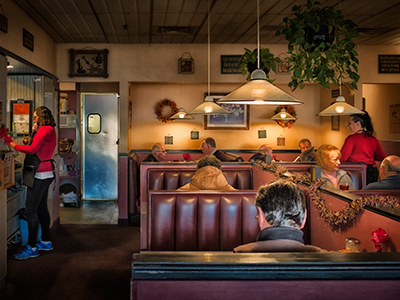 Photographing something that we see in our daily lives in such a way as to make a print that captures the essence as well as adding a strong visual interpretation of the subject, is the mark of an excellent photograph. Using a comfortable diner and its patrons as subject matter, Tom's photograph makes you feel as though you were waiting for a table on a busy holiday morning. Using clever post processing, the image makes the people look more like caricatures than real people and still gives the viewer the feeling of the comfort that will be provided by a warm breakfast surrounded by others doing the same. His use of color adds to the strength of this image, making for a warm and interpretive realistic view of this diner. Diners have been the subject of many artists; consider the work "Nighthawks" by Edwin Hopper. Tom's photograph shows a more modern excellent interpretation of a timeless subject.
Partner Choice
Vieux Carré
by Ed Welch
One of the most magical places in United States is New Orleans with its combination of beautiful buildings, great music, wonderful food, and unbelievable nightlife. Ed has captured some of this wonder in his photograph presenting lamps like stars glowing in this magical night. The people move through the streets almost like blurs focusing the viewer's attention on the magnificent architecture of the buildings and their dramatic lighting. This is the kind of image that makes you either want to return to New Orleans if you've been there before or put it on your bucket list to do as soon as you can.
People's Choice
Stare
by Clay Arnold