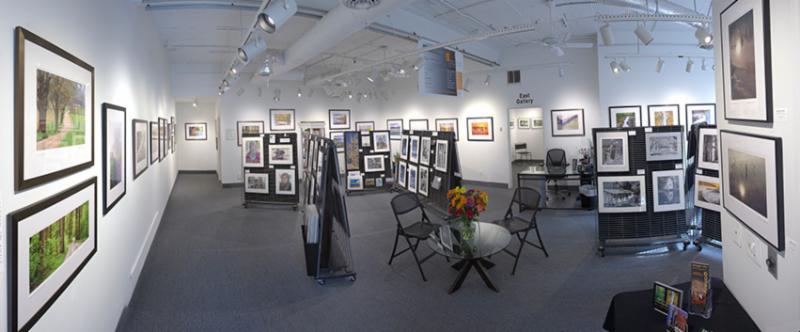 Image City Photography Gallery
Newsletter #101 February 4, 2016
For a webpage version of the newsletter
Click Here
We publish our Newsletter during each of our exhibits to pass along information and reviews of the exhibit, selected images and news of participation opportunities at Image City. We thank you for your interest and we look forward to another great year of fine photographs and events. We hope to see you at each of the 13 shows we produce in 2016.
Size Matters by David Bleich
Current Show Runs Through Sunday, February 21
First Friday Gallery Night, 5 - 9pm, February 5
The second exhibit of 2016 features the photography of David Bleich, a photographer whose passion for producing large photographs is dramatically impressing visitors. Titled
Size Matters
, David's grand scale ranges from massively detailed cityscapes to nature in abstract. Throw in some landscapes, architectural geometry, and machines and we have an exciting exhibit that we know you will enjoy immensely.
Gary and Phyllis Thompson, Gallery Partners, have a beautiful exhibit of their superb landscape photographs in our East Gallery. We continue to enjoy the work of Camera Rochester members who have won competitions at their club -- for this show the work of

Claude Artique, David Hampson, Earl Jackson, Jerome Kaye, Susan Kaye, and Loni Titus.
We are also pleased to have an exhibit

in collaboration with our neighbor, Writers & Books. The photographs coincide with the reading of the book Queen of the Fall by Sonja Livingston, as part of the "If all Rochester Reads the Same Book" series.
Rounding out the exhibit is work by Gallery Partners and Artists-in-Residence,
Dick Bennett, Carl Crumley, Steven Levinson, Gil Maker, Don Menges, Dan Neuberger, Jim Patton, David Perlman, Betsy Phillips, John Solberg, and Sheridan Vincent.
Plan to attend First Friday Gallery Night on February 5 from 5 to 9 pm. This reception is a great opportunity to view the art, discuss it with the artists, and to invest in their photographs.
Click Here
to see our webpage for show details and a preview of photographs in the exhibit.
Peter Marr's Picks of the Exhibit
After the installation of the photographs Peter Marr, noted photographer and competition judge, selected two of his favorites and wrote commentary on what appealed to him in making his choices. Peter's Picks is a popular feature of our exhibits as visitors enjoy reading Peter's insightful comments while admiring the photographs.
Viking Huts
by David Bleich --
This is one of the most sublime and meaningful landscapes that I have ever seen, made all the more spectacular and evocative, by the fact that the large panoramic display is mounted on an acrylic substrate, which adds a resplendent brilliance and clarity to the print. The verdant and lush green grasses continue their inspiring presence all the way up the steep hillside, through the stands of conifer trees, before merging with the almost barren hillsides of volcanic peaks which are enshrouded in mist. In the foreground, imposingly set against this impressive landscape, are a row of Viking turf houses, so named, because each roof is covered with multiple layers of living grass sod. Remarkably, the roof lines of the houses flow in an undulating pattern that mirrors closely the background setting The massive stone walls help support and insulate these houses, and in front is a stone and gravel pathway which connects all of these dwellings. The Icelandic turf house is an exceptional example of Vernacular architectural tradition, which was brought to the country by Nordic settlers dating back to the 9
th
century. They are predominantly of timber and stone construction, around and over which, thick layers of turf form an insulating cover. It is remarkable that in one of the world's most inhospitable lands of volcanoes, earthquakes, and glaciers, the Icelanders have learned to survive at the edge of the Arctic, living in turf house communities until the early 1900's. Many of these structures are in the National Museum's Historic collection, and many have been remodeled and reconstructed for rental and hostel use for tourists. I have given some of this background data in order that viewers of this exceptional landscape be more aware of a sense of presence, and to imagine that they have the freedom to stop and enter any one of the dwellings. There, in a visionary way, the observer can conjecture and think about the people, their way of life, their hardships, etc, so that this historic and august print means even more to them.
London Eye by David Bleich -- It is a great tribute to David's artistic and visionary skills that he chose to photograph a segment of the London Eye, using an imaginative viewpoint, that results in a memorable and impressive image. This spectacular engineering construction, reminiscent of a Ferris wheel, has offered visitors over 15 years of eye-catching, 360 degree views of the London metropolis. Here is a work of art that the photographer has frozen in time, and observers are left to explore it internally in their own time. One should caution that as memory is an important part of vision, there can be no objective vision, because each of us has a different memory. What one sees is a magical curved sweep of a sector of the London Eye that beautifully highlights the glass capsules mounted outside the rim, giving passengers an unobstructed view, and an exhilarating ride in space up to a height of over 450 feet above the ground. The decision making parts the brain have an instinct to find and accept symmetrical geometric forms and patterns, so the display of curved lines will offer rewards and feelings of relaxation. These feelings would become more tense when dealing with the distinctive lines of the cable spokes, which ironically, are positioned to hold the structure in tension. What separates this image from the thousands of other photographs of the London Eye, is that David has used a "High Key" effect, eliminating the sky and any other extraneous detail, to highlight just the curved segment against a white background. Not only does this allow the observer to take in the majesty of every detail of this engineering marvel, most importantly, from the photographer's viewpoint, the total emphasis is what one sees, and not what the passengers are viewing from each of the capsules. In conclusion, one observation that could be distracting for some people, is that one of the glass capsules has been painted underneath a blood-orange color. For many people, this bright color immediately draws the eye away from the silvery-gray pods which are its neighbors, resulting in a disruption to the symmetry of this circular structure. Nevertheless, this is an outstanding image, masterfully printed and displayed in a vertical format that takes one to the top and beyond the London Eye itself.
David Bleich was also awarded a
Partner's Choice for his photo Eiffel Blue in the last show, The Magic of Light 2016. The photograph is again featured in the current Size Matters.
New Course by Don Menges


Photoshop: Essentials for Photographers
This Photoshop class for beginners will teach you the fundamentals of Adobe Photoshop with easy to follow, practical examples. Offered by Don Menges
Saturday, April 2nd 9:00am-5:00pm and Sunday, April 3rd 1:00pm-4:00pm
Saturday, April 9th 9:00am-5:00pm and Sunday, April 10th 1:00pm-4:00pm
Irondequoit Public Library, 1290 Titus Ave. at the corner of Kings Highway - Irondequoit
The fee for this course is only $280! $100 non-refundable deposit is due by March 1st, 2016. The balance is due by the first day of class. There will be a maximum of 10 students.
Image City Photography Gallery 585.271.2540
722 University Ave., Rochester, NY 14607
More information, including a detailed course outline, is available here;
Gary Thompson's Photo Tips
Clouds in Sunsets or Sunrises

Keene Valley Sunset --
Photographers very often include the sun breaking over the horizon or the sun bursting through picturesque tree canopies when photographing sunrises or sunsets. These compositional techniques are very effective and often produce beautifully dramatic images. I very often use these approaches when photographing sunrises and sunsets.
When dramatic cloud patterns are present at right angles to the sun an equally beautiful image can sometimes be captured without the direct presence of the sun. This is the case in my image of an autumn sunset in the Keene Valley area of the Adirondack Mountains of New York State. I was first attracted to this location by a heavy fog that had settled over a grassy field containing a picturesque white building. When the fog rose and the area began to clear a very large thick cloud formed leading me to believe that a heavy dull sunset would take place. Instead the cloud broke into attractive patterns while taking on brilliant red colors. The most beautiful patterns were actually at a right angle from the setting sun and it was relatively easy to capture this photograph using a three-stop ND gradient filter, over a polarized filter on the front of my moderately wide angle lens
.
An advantage of shooting at right angles to a sunrise or sunset is that often the components of the image are fairly evenly illuminated and very little or no post processing is required.
The see a larger image and the full series of Gary's Photo Tips, check this link.
Carl Crumley's Video and Virtual Tours of Image City
As a recipient of the newsletter, you either signed up with your email address during a visit to the Image City or at the time of an online visit. Our e-mail list continues to grow to more than 4200 subscribers. By the way, we do not share this list and use it to describe each of our exhibits by an announcement and newsletter. If you have not visited recently or signed up from a distance, you will enjoy the tour that Carl Crumley has produced. His first-rate productions show off the Gallery. In addition to a visitors tour, a second program focuses on the gallery as an opportunity for photographers to exhibit their art. Click on this link for the video tour and this link to learn about becoming a Guest Photographer at Image City, sit back and enjoy the visits. There is also an interesting virtual reality 360 degree view of the current exhibit on the show page for the show at this link.

Speaking of Exhibition Opportunities, our bookings for Guest Photographer exhibits in 2016 are filling up and we are also booking into 2017. If you are interested in exhibiting your photography, it would be good to not delay. Click here to get the details on the exhibition opportunities at Image City.
Image City Photography Gallery, 722 University Avenue
February 5, 5-9pm First Friday Gallery Night for Size Matters by David Bleich
February 21 Last day of Size Matters exhibit
February 23 Opening Day for Peter's Picks Retrospective 2014
Febraury 26, 5 - 8:30pm Reception Peter's Picks Retrospective 2014
Image City Photography Gallery Hours
Tuesday - Saturday Noon - 6pm
Sunday Noon - 4pm
There is no admission fee to visit Image City

in the Heart of ARTWALK in the Neighborhood of the Arts
where our mission is to create a quality exhibition and learning experience for photographers and the art-loving community.