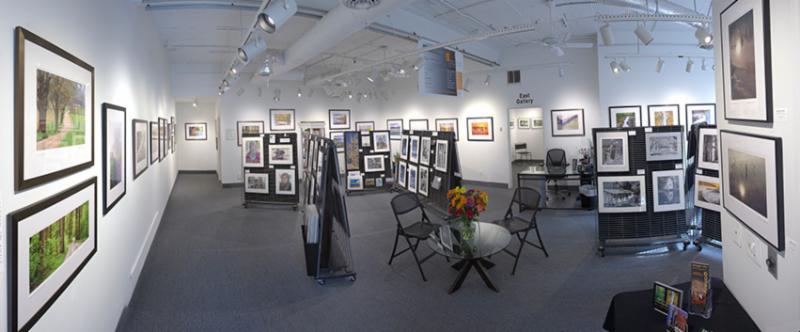 Image City Photography Gallery
Newsletter #107 July 22, 2016
We publish our Newsletter during each of our exhibits to pass along information and reviews of the exhibit, selected images and news of participation opportunities at Image City. We thank you for your interest and we look forward to another great year of fine photographs and events. We hope to see you at each of the 13 shows we produce in 2016.
2 Men, 2 Visions by Dick Bennett and Carl Crumley
Current Show Runs Through Sunday, August 7
First Friday Gallery Night, 5 - 9pm, August 5th
Gallery Partners, Dick Bennett and Carl Crumley, are the featured photographers for our current exhibit, 2 Men, 2 Visions, at Image City.

Carl brings an element of intrigue with his photographs noting that "The camera sees what the eye can't see." Photographs showing the infrared light spectrum, night-sky photography, long exposures of waterfalls, extreme close-ups of insects, and the recreation of historic photographs encompass an enlightening variety. Carl also challenges us by showing abstract photographs and asks us to guess what they are.

The second vision of the exhibit is by

Dick taking us on safari to the South African bushveld with photos of his experiences on a six-day photo safari earlier this year. His photographs have captured both the locale and the wildlife with his intimate landscapes and portrayal of the daily life of animals in their natural environment.
Michelle Turner contributes to the exhibit with her dramatic photographs of Antarctica, another exotic land with landscapes and the animals in their natural environment. It is refreshingly cool to see her world of ice in the East Gallery. Additional Guest Photographers are Clay Gehring and the Rochester Photo Editors Group, a very active and talented meet-up group of photographers with select works by Dick Beery, Wes Boyce, Lou Cardinale, Steve Drew, John Ejaife, John Esposito, Bonnie Gamache, Mike Heberger, Kurt Hertzog, Katherine Logar, Joann Long, Marcia Mundrick, Sandi Osterwise, Luann Pero, Martha Price, David Schroeder, Patty Ulrich Singer, Leslie Stannard,

Loni Titus

and Sharon Yockel
.
The show will also include the work of Gallery Partners and Artists-in-Residence: Steve Levinson, Gil Maker, Don Menges, Dan Neuberger, Jim Patton, David Perlman, Betsy Phillips, John Solberg, Gary Thompson, Phyllis Thompson and Sheridan Vincent.
With photographs by 34 artists, you will enjoy a wide range of photographic interests and styles. You will certainly enjoy a visit most any time during the show that runs through Sunday, August 7.
First Friday Gallery Night is on August 5th from 5 to 9 pm. Our receptions are a great opportunity to view the art and support the photographers by your discussions or even better when you invest with a purchase of their photographs. Click Here to see our webpage for show details and a preview of photographs in the exhibit.
Partners' Picks
After the photographs have been installed for the exhibit, Gallery Partners have picked four photographs by the featured and guest photographers that we feel are worthy of special mention and representative of the fine photographs being shown.
Leopard Cub by Dick Bennett--
Dick has produced this captivating photograph of a beautiful leopard cub. For good reason he needed to take this photograph from a significant distance from the cub and by shooting through a variety of interfering subject matter. By using selective focus he was able to isolate the cub and the gray rock upon which he/she is perched as the only subject matter that is distinctly in focus. The viewer's attention, like in all photographs, is attracted to the sharpest objects in the image. By virtue of its sharpness the leopard cub perched upon the gray rock becomes the subject of the photograph. There are other reasons that our eyes and minds are attracted to the cub. Stare for a moment at the two eyes of the cub. Notice that the cub's eyes stare directly back at you. Dick skillfully captures this threatening feeling of "eye contact" between the cub and viewers of the image. The alertness of the leopard communicates further the feeling that he/she may be ready to charge the viewer. The body tension of the cub's shoulders and the slight curl of it's paws around the rock seem to produce good positioning for launching an attack. By capturing these subtle but telling features in his image Leopard Cub, Dick has produced a powerfully interactive image linking the leopard cub and the image viewer.
Angel Fish by Carl Crumley -- The Angel Fish image is part of Carl's "What is it?" series, one of his six groupings in the show. Carl enjoys an eclectic approach to his photography searching for those images where the "camera sees what the eye can't see". The Angel Fish is one of those images. Carl refers to it as a happy accident (and we all have those), but recognizing what you have after the fact is also an important aspect of photography. This image, shot at a shutter speed less than intended, contains just a bit of motion blur that makes it a recognizable abstract. An angle fish is discernable, yet the movement of it has created an other-worldly effect that is very pleasing to the eye. As Carl has suggested, our vision of this scene, would have seen an angel fish in an aquarium. A camera allows us to play with what we see and create something that we can't see with our eyes... slow motion captured in a still frame! Nice work Carl.
Sleepy by Joann Long -- Utilizing color, selective focus and composition, Joann has created a beautiful photograph. The lush green of the background nd the leaf compliment the green of the frog. The use of selective focus renders the background a neutral pallet on which the leaf and frog are then the subject of interest. Outdoor photography is often challenged with overly busy backgrounds. By keeping the plants behind our frog out of focus, this overcomes this potential problem very effectively. The way the leaf has been photographed and the image composed takes your eye to the face of the napping frog. The lines of the leaf's center move from the lower right to our model, the frog! Green is not an easy color to work with photographically. In this photo Joann works with variations on the color green to make for a wonderful example of how to keep an image almost mono-chromatic but still be very interesting as a "study in green".
Dirty Windows by David Schroeder -- David's forte lately has been for minimalization and strong abstracts that highlight texture, color, lines or whatever he wishes to emphasize as he peers through his lens. David challenges the viewer to view something specific rather than stepping back to see the full scene. Dirty Window is a symmetrical design of six windowpanes, though no one pane is complete in the frame. Each pane is dirty, but not as in brownish or brackish color that obscures the view. Rather, it appears as if someone has taken a brush and finely brushed or swirled a substance on the glass. This whitish color may have been from a long ago paint decomposition that has streaked the window. Upon closer examination, as one looks through the windows there are splashes of color like someone used a large strokes of different colors on a tapestry. What emerges are blurred colors that seem to represent plants. What is clear is that David places these colors in the left side of the frame near the power positions thus creating a tension with the symmetrical feel of the windowpanes. As with a landscape image the sharp focus foreground of green plants with touches of red serve as a counterpoint to the swath of color hiding just inside the middle ground window that has a pleasing texture. All of this adds the perception of depth to the photo that may not have been apparent at first glance. David searches for patterns and textures where others may over look or not deem important from a broader perspective. Ironically, he challenges us to see a broader perspective within a very tight frame. Dirty Windows is a very pleasing work of art.
Whiskers
by Michelle Turner -- Michelle has presented an excellent series of photographs taken on a recent trip to Antarctica. Noted photographer and educator Jay Maisel teaches that one component of a good photograph is something he calls "gesture". For example, a picture of a small boy with his hands at his side is far less engaging that one where he is doing something, like waving or hands on hips, etc. Jay teaches that gesture is not only something that can be shown by people, but it can be shown by animals and inanimate objects as well. Another component of a strong photograph is a strong graphic composition for the viewer to admire. This photograph presents all of these factors in a very creative way. The sea lion is not shown in complete form, only the head and one of its flippers is presented. There is a whimsical feeling to the photograph, the tendency to anthropomorphize animals is something that we all do and this image allows the viewer to do this, attributing strong feelings about the subject to the viewer. The use of minimal color is very effective, reflecting the minimum pallet that is most likely presented to the photographer. The blue background, the amazing actual color of ice in Antarctica nicely frames the body of the subject. This photo is NOT just a documentation of what a sea lion looks like, but is ABOUT the sea lion. The viewer feels a strong affinity to this animal, and the enjoyment that it appears to being displaying. Even lying on the frigid surface of the ice!
Image City Photography Gallery, 722 University Avenue
August 5, 5-9pm First Friday Gallery Night 2 Men, 2 Visions by Dick Bennett and Carl Crumley
August 7, Last day 2 Men, 2 Visions by Dick Bennett and Carl Crumley

August 9, First day of new exhibit Portfolio Showcase 2016
August 12, 5-8:30pm Reception for new exhibit Portfolio Showcase 2016
Image City Photography Gallery Hours
Tuesday - Saturday Noon - 6pm
Sunday Noon - 4pm
There is no admission fee to visit Image City

in the Heart of ARTWALK in the Neighborhood of the Arts
where our mission is to create a quality exhibition and learning experience for photographers and the art-loving community.