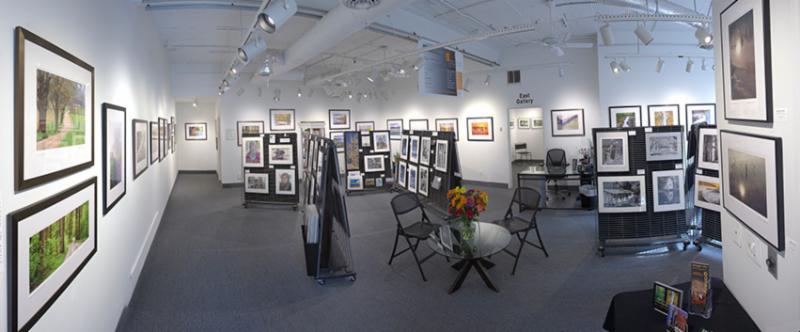 Image City Photography Gallery
Newsletter #109 September 15, 2016
We publish our Newsletter during each of our exhibits to pass along information and reviews of the exhibit, selected images and news of participation opportunities at Image City. We thank you for your interest and we look forward to another great year of fine photographs and events. We hope to see you at each of the 13 shows we produce in 2016.
Japonica: Impressions of Japan by Steve Levinson
Current Show Runs Through Sunday, October 2
Our current exhibit at Image City Photography Gallery is by Gallery Partner, Steve Levinson -- Japonica: Impressions of Japan. Steve's black-and-white and color photographs were taken during a trip to Tokyo, Kyoto, Takayama, Kanazawa, Nikko Shirakawago and Nara. His photographs show us a culture, both modern and ancient, with a variety of superbly presented photographs ranging from the abstract, to architectural, and portraiture.
An exhibit in the East Gallery is by local high school teachers Sulyn Bennett-Hennessey, Bruce Elling, Susan Rudy, and Lauren Scherer Reinert. Guest Photographers are Jim Dusen, Jan Ferry-Axman, Jeff Palm, and Avi Pryntz-Nadworny.
Also exhibiting their work are Gallery Partners and Artists-in-Residence Dick Bennett, Carl Crumley, Gil Maker, Don Menges, Dan Neuberger, Jim Patton, David Perlman, Betsy Phillips, John Solberg, Gary Thompson, Phyllis Thompson, and Sheridan Vincent.
Click Here
to see details of the exhibit ad a link to a preview with a selection of photographs from the exhibit. There is no admission fee at Image City and the Gallery is accessible to all. We look forward to your visit for another supurb exhibit having a diverse range of subjects and photographic styles by the 21 participatin photographers. Certainly you will enjoy and perhaps find a perfect addition for your art collection. Be sure to check out the Picks by Peter Marr and Gallery Partners in a later article of this newsletter.
Scott Kelby World Wide Photo Walk 2016
Saturday, October 1, 9am - 11am

One of our partners, Gil Maker, will once again be leading a photo walk for the Scott Kelby World Wide Photo Walk, 2016. The walk will take place Saturday, October 1 from 9am until 11am. We will be walking the City/High Falls area.
Image City Critique Group


Meets October 5 at 6:30pm
The Image City Critique Group is up and running. We meet next on Wednesday, October 5th starting at 6:30 pm. This year we are going to employ regular monthly assignments to keep you on your photographic toes. Prior to our next meeting you are to make 4-5 crops from a single image. Send an email to Don Menges (
dmenges@rochester.rr.com
) to obtain the images if you don't have them already.
New Course by Steve Levinson
Creating Great Photographs with Adobe Lightroom


After taking this lecture and workshop course, you will have a workflow that you can efficiently follow for every photograph you make:
importing images into your computer so that you can easily find them at a later time
selecting the best images using an organized process
creating a fine digital image and then
making a fine digital print or posting on the internet.
Dates: October 19 and 26 and November 2 and 9 from 7 - 9 pm
Location: We will meet a the historic Pittsford Flour Mill, 15 Schoen Place, Pittsford
Price: The price for this course will be $165 and the class will be limited to a maximum of eight photographers. You can sign up and prepay for the course at Image City Photography Gallery. Check the link for details online at "Courses at Image City"
Peter Marr's Picks of the Exhibit
After the installation of the photographs Peter Marr, noted photographer and competition judge, has selected three of his favorites and wrote commentary on what appealed to him in making his choices. Peter's Picks is a popular feature of our exhibits as visitors enjoy reading Peter's insightful comments while admiring the photographs
.
Threesome by Steve Levinson
--
This is an absolutely delightful photograph of 3 Japanese children, immaculately attired in their mandatory school uniforms, sitting together on a bench inside an open shelter, probably awaiting transportation to their place of learning. The setting is memorable, where both the foreground and background masterfully and powerfully enhances the tone and atmosphere of this image, without detracting in any way from the main subject matter. This monochromatic print vibrantly glows under soft diffuse lighting which spectacularly accentuates every tonal gradation and detail. Although the children are aware they are being photographed, there is no "inscrutable" response from the three of them. Certainly the youth in the center is flashing a v-shaped finger pose to Steve, a typical response to an interested tourist, and his eyes directed to the side emphasizes his disinterest and so-what attitude. The boy on his right exhibits a more quizzical expression, suggesting that he is trying to read the mind of the photographer as to why the 3 of them are being singled out for special attention. Of interest, both these boys are holding on tightly to their umbrellas. In complete contrast, the girl at the center left has a delightful smile, belying somewhat her nervousness, as evidenced by the way that she is playing with the ends of the spokes of the unfurled umbrella, and appears withdrawn and much less confident than her compatriots. For myself, and the reason that I chose this creative and expressive image to comment on, is that it inspiringly depicts part of a rigid culture of childhood development in Japan. I am very much in favor of a strict school dress code, having experienced it myself, and it has many positive attributes. In Japan, however, where success at the school level is paramount to a child's future in life, the competition is extremely intense. This starts early in life, and with our 3 students, the dress code has eliminated an important element in their quest for individual expression. They are left with few chances to achieve some level of personalization such as where here, one is aware of different umbrella designs, sneaker styles, designs on their water canisters, all the way to how they wear their hats. Steve's captivating image is authorative and compelling, an uplifting and visionary record of a way of life and cultural traditions in Japan.

Golden Pavilion by Steve Levinson
--
The Golden Pavilion is a centuries old Zen Buddhist Temple and a retirement Villa of the Shogun, which is one of the most popular destination for tourists in Japan. Inspiringly, Steve has brilliantly and artistically chosen a viewpoint of this historic site that allows the viewer to admire and explore the lifelong relationship between culture and nature, in which beauty and form are at one with each other. Not only that, but he has imaginatively used monochromatic media in order to accentuate the visual and tonal continuity of how the Pavilion is an integrated structure within the landscape. The centerpiece is an impressive pine tree towering above the reflecting pond, its weathered trunk powerfully thrusting diagonally ever upwards in its desire to surpass the temple in its height. Its often twisted and contorted branches reach out majestically in all directions. What is so revealing and awe-inspiring is the wonderful contrast between the tree bark's darker elongated striations, formed by nature over countless years, with the almost translucent pine needles which are displayed in a myriad of spikes and groupings, which seem to dance in unison as they set up radiant displays over the water below. This pine tree is a symbol of longevity and resilience, evoking the essence of the landscape itself, and playing a key role of spiritual significance. The foreground of this stellar black and white print is framed elegantly with native plants, and interestingly, the reeds growing in the pond gracefully complement the pine needles. The Golden Pavilion itself is very evident, with its stately architecture seen imposingly through the pine tree as a lovely high key setting. The temple is magically reflected in the water below, stylishly revealing how it is creatively integrated into the landscape. This striking image is a great tribute to the photographic and artistic talents of Steve, especially in how he has combined an exceptional unconventional viewpoint, lovely diffuse lighting, exposure control and printing prowess, to give to the viewer an exceptional and uplifting image. This delightful print profoundly illustrates how Japanese culture and a reverence for nature can be enjoyed together by everyone.
| | |
| --- | --- |
| | |
Irby by Avi Pryntz-Nadworny
It is strikingly and insightfully evident that Avi's tenure with Cirque Du Soleil as an acrobat and performer, provided a wonderful experiential training opportunity to photograph circus artists. His remarkable images are a great tribute to the consummate skills of the performers, and to his outstanding talent and artistry in photographically capturing these exciting images. My favorite print of Avi's in his exhibition is Irby, an image that has a magical quality that is full of vitality and exhilaration. The artist has been superbly captured by the photographer at a peak moment where she appears to be flying in space, and if the window was open, it is easy to imagine that she could continue into the space beyond. The artist's body, outstretched arms and legs are in almost perfect unison, combining supreme strength and gracefulness in a manner that is just breathtaking. Achieving this dynamic and masterful position is a great tribute to her artistry and athleticism and to her work ethic and long hours of training and practice, and of course to Avi's exceptional skills in capturing so amazingly this epic picture. What really puts this image in the exceptional category is the exquisite lighting. The photographer has creatively captured the ambient light coming through the vertical window, where the lower frames in the latter produce a distinctive pattern on the wooden floor, the light from which reflects up onto the artist, filling in all the important detail in her legs. The soft lighting is still strong enough to outline the detail in the blue door to the right, and the window at the top of the door allows one to see a small part of the outside and in doing so, creates an important 3-dimensional element to this wonderful picture. In total, the entire room is beautifully illuminated, low key, but enough light to admire the paneling, the floor

and the blue ceiling. This is truly an exceptional photograph for everyone to enjoy and treasure.
Partner's PIcks of the Exhibit
In addition to Picks by Peter Marr, Gallery Partners have selected three photos for a special mention.
Dead Horse Point by Jim Dusen
--
Jim Dusen has creatively captured a beautiful and unique image of an often-photographed location. The scene is Dead Horse Point located in Utah just outside of Canyon Lands

National Park. Jim's image differs from the multitude of other high quality photographs of this location in two ways

.
The most significant difference is that Jim has framed the image with a refreshingly interesting and very large foreground. The foreground, which covers about 55 percent of the image, contains the same warm colors of the canyon and its orientation points directly down towards the large "U" shaped bend in the Colorado River. Jim thus creates excellent balance for the image and also fosters feelings of 3-dimensionality for the viewer.
Most photographers include a small portion of the sky above the rim when photographing this canyon. Jim avoids the sky entirely, and concentrates totally on the essential elements of the canyon. This provides simplicity and emphasizes the beauty of the scene. Notice how the brightest portions of the image surround and direct our attention to the bottom of the canyon. This nicely places their intersection on one of the rule of thirds locations. Jim has shown that an excellent photographer can avoid cliché images and can creatively produce high quality and unique compositions at iconic locations.
Warmly Frozen by Jan Ferry-Axman
There are many beautiful landscape photographs taken by many talented photographers. Most of these can be considered "wide angle", showing beautiful mountains, rivers, oceans, forests and the like. A subset of landscape photographs can be termed "micro-landscapes" --showing just a small portion of what the photographer sees. Often these are very effective ways to convey the larger scene by focusing on one aspect of it.
Jan has exhibited a beautiful series of photographs that do just that. Showing creative composition, Warmly Frozen depicts the beauty of water, leaves and ice. Employing earth-tones and a very strong graphical sense, this photograph encourages the eye to move throughout the space. Also to move up and down into the frozen lake, enjoying leaves that are both at the surface and somewhat submerged. The ripples of ice add strongly to the composition, offering a counterpoint to the colorful Autumn leaves. Winter in the North East can be both something that its residents can both dread and revel in. Warmly frozen depicts the transition of fall to winter--the leaves till retain their autumnal colors while starting down the road to being frozen for the upcoming months. Reinforcing the beauty of the winter in our area. Also this photograph, though having a simple subject, can be considered.
454 - 1
by Jeff Palm
--
Jeff Palm uses excellent architectural composition producing his beautiful photographic portrait of a Blue Chevelle. He has directed his camera to the front corner of the Chevelle thereby exposing almost the full length of the left side of the vehicle. To the right of the car's corner he features two front headlights and a portion of the front grill of the Chevelle. By placing the corner of the vehicle off center and to the right side of the photograph he is able to feature the long blue side of this classical vehicle. The combination of the long blue side view of the car and the much shorter view of the car's grill utilizes the "rule of thirds", and communicates a pleasant three dimensional feeling.
Several subtle reflections add to the beauty of this image. Smokey shaped, almost wistful white reflections seem to float across much of the blue side of the car. Blue and golden reflections delicately highlight the chrome of the grill and bumper areas. The inclusion of the front tire and chrome of the hubcap and wheel are important for balance. The silvery reflections off the hubcap and wheel are attractive and counter balance the roundness of the two headlamps.
Image City Photography Gallery, 722 University Avenue
October 1, 9 - 11am Scott Kelby World Wide Photo Walk 2016
October 2 Last day Japonica: Impressions of Japan by Steve Levinson
October 4 Opening Day Elements of the ROC by Don Menges
October 5, 6:30 pm Image City Critique Group

October 7, 5 - 9 pm, Reception and First Friday for Elements of the ROC by Don Menges

Image City Photography Gallery Hours
Tuesday - Saturday Noon - 6pm
Sunday Noon - 4pm
There is no admission fee to visit Image City

in the Heart of ARTWALK in the Neighborhood of the Arts
where our mission is to create a quality exhibition and learning experience for photographers and the art-loving community.