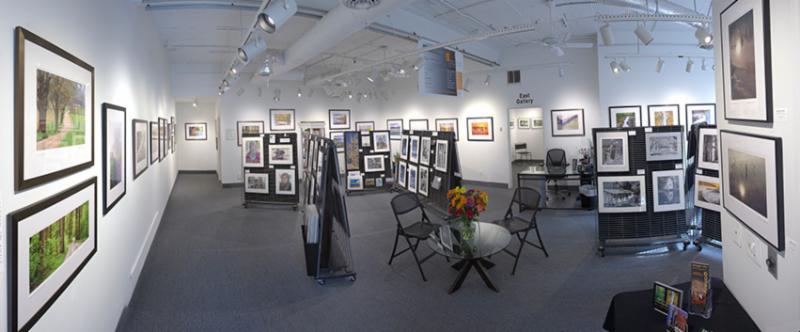 Image City Photography Gallery
Newsletter #113 January 12, 2017
For a webpage version of the

newsletter
Click Here
Our Newsletter publishes during each of our exhibits to pass along information and reviews of the exhibit, selected images and news of participation opportunities at Image City. Thank you for your interest and we look forward to another great year of fine photographs and events. We hope to see you at each of the 13 shows we produce in 2017.
AtmaSpheres by Scott Matyjaszek
Current Show Runs Through Sunday, January 29
Image City's first exhibit of 2017 is by long-time supporter of the Gallery, Scott Matyjaszek. Titled AtmaSpheres, his exhibit has started the year with a special excitement and appreciation for his creative images. Making a significant change in subject and style from his past exhibits at Image City, Scott's brilliant series of images are produced on dye-infused aluminum media. His show title combines "Atma" meaning in Hindu, Buddist, and Jain traditions-- the higher self and universal consciousness with "Spheres" meaning places or environments within which a thing exists. There is a gem-like quality to the images, as if they are lit from within and the Gallery certainly appears to glow with the brilliance. Be sure to read Peter Marr's Picks later in the newsletter for some fine examples from the exhibit.
In the East Gallery, Gallery Partners Gil Maker, Don Menges, and John Solberg have produced an exhibit, "The Hazel Project" named after the sofa they brought on location and encouraged passers-by to pose with "Hazel". You can tell from the series that all were having a very good time during the Project..
Guest Photographers are Lisa Davis, Jerome Kaye, JFK/AJVK, Ira Srole and photograpers John A. Ejaife, Bonnie Gamache, Jerome Kaye, Susan Kaye, Alex Pendleton, and Susanne Roth with their winning photographs from Camera Rochester competitions. Gallery Partners and Artists-in-Residence are Dick Bennett, Carl Crumley, Steve Levinson, Gil Maker, Don Menges, Dan Neuberger, Jim Patton, David Perlman, Betsy Phillips, John Solberg, Gary Thompson, Phyllis Thompson, and Sheridan Vincent.
Click Here to see our website listing and a link to a preview with a selection of the superb photographs by the artists in the show.
Peter Marr's Picks of the Exhibit
After the installation of the photographs Peter Marr, noted photographer and competition judge, has selected three of his favorites and wrote commentary on what appealed to him in making his choices. Peter's Picks is a popular feature of our exhibits as visitors enjoy reading Peter's insightful comments while admiring the photographs
. We very much appreciate Peter's participations at Image City!
Flower Fairy Dance Recital

by Lisa R. Davis

- What is so inspirational about Lisa's fascinating and delightful exhibition is that she has creatively combined her love of nature and gardening to produce an awesome display of flowers and plants that is really memorable. She has admirably perfected her skills using a flatbed scanner, resulting in artistic flower designs that range all the way from bouquets to whimsical arrangements, clothing and "Fairy Tales." My favorite print in her exhibition is Flower Fairy Dance Recital, in which the artistic design and gorgeous color palette are exceptional, together with the inspiration of music and dance. What flower could ever dream of being a ballerina, let alone be partnered with 4 other delightful companions to form a dance group of such grace and beauty. Each flower has a delicacy of form and design, and a vibrancy of spectacular hues that are exhilarating and magical. The range of colors and levels of saturation and brightness are resplendent, emphasized majestically by the black background. All of the flowers are in peak condition, just like they are growing in the garden. The artist has cleverly used the green flower stalks to symbolize the ballerina's legs, and all of the dancers are featured en pointe, one of the most difficult positions to maintain. I do sense that in this delightful grouping of 5 ballerinas, there is an element of rivalry among them. Certainly four of them are displaying their dancing prowess with arm and leg movements in time with the music. Not so with the ballerina in the center, who is probably the prima ballerina, Although she remains en pointe, and with her arms folded, she displays her eminent status by having the grandest and most beautiful flower design and regal color scheme. This is a ballet troupe of spectacular beauty and talent. All the viewers need to do is add the music and watch as these fabulous flowers perform a ballet dance like no other that they have seen..
Peter A. Marr
The Dancer by Scott Matyjaszek -

Over the years, the Image City Photography Gallery has been fortunate to have shown many of Scott's memorable works, particularly his 3D collages. Now, in this scintillating exhibition, he has produced an amazing series of digital creations, whose artistry and impact have been enhanced by their presentation as dye-infused aluminum prints.

In The Dancer, my favorite image in this show, I view the subject matter with a sense of wonder. The initial impact is of a mystical, surreal figure of flowing lines and curves that twist and swirl in space in a magical and creative way. The intricate designs are intensified and reinforced with a resplendent range of colors, the analogous hues of which provide a wonderful sense of unity and are especially vibrant against the black background. Each color enhances the delicate tracery, even the areas of white which bring out the flowing structure to perfection. My immediate thoughts on seeing this stunning image was that it was an impressionistic vision of an American Indian dancer, who was expressing the relationship between a human and a deity. Furthermore, with the exquisite flowing designs and the rich color palette, I was convinced that one was witnessing part of a dream sequence. Resting on the floor of a tepee beside a warm fire, an American Indian was fascinated by the delicate wafts of smoke that emanated upwards from the fire. His mind went back to his youthful experiences when he witnessed Indian dances, and to his awareness that these dances were symbolic of ancient life-ways and manifestations of spiritual power. These dances were powerful expressions of cultural survival. He saw in the intricate make-up of the smoke, the image of a dancer painted with symbolic colors, wearing brightly colored feathers and headwear, performing an ancient tribal dance, and he felt a genuine sense of pride that he was reliving part of the rich culture of his ancestors. I also feel very privileged to view Scott's compelling, mystical and spiritual print

.

Peter A. Marr
Sound Refraction by Scott Matyjaszek
-
This is an awe-inspiring, dramatic and creative print one which will challenge every viewer if they want to analyze what they think they really visualize in this image, remembering that there is no such thing as objective vision, for one chooses all the time what we see. Certainly, our eyes are captivated and drawn to the spherical structure that is bathed in delicate pastel hues and emanating from it are a series of elegant curved shapes which diagonally traverse the print, each one sequentially having more saturated hues and lower brightness values. One is aware of reddish-colored horizontal elements, together with darker colored curved forms which seem to disappear into a light colored assembly immediately below the dominant sphere. This visionary and creative print has a power and vitality that is remarkable, and yet like most viewers, I have a cognitive desire to categorize and label what I think I see. The delicately curved structure is the cochlea of the inner ear, with various ear parts impinged on its surface. The brightly colored elements situated below the cochlea represent the small bones of the middle ear which includes the stirrup. Reacting to a powerful sound source of highly variable decibels, the ear has captured the lower wavelength sounds designated by the brightly colored curves, and transported them through the cochlea to stimulate the tiny hair cells that disappear into the top right corner of the print, before eventually going to the brain. On the other hand, the dangerous high decibel waves are mostly rejected by the middle ear and reflected back, away from the cochlea, and these are represented by the darker waves going back to the top left of the picture. Such is the power of these high decibel emanations, they create considerable pain in the ear region and head, such pain is shown as red horizontal streaks and a confusion of red striations below the cochlea itself. It is important to remember that one should and must admire this awesome image for its regal power, and compelling radiance, a great tribute to the artistic and digital mastery of Scott.
Peter A. Marr
Partners' PIcks of the Exhibit




In addition to Picks by Peter Marr, Gallery Partners have selected two photographs for a special mention.




Temporal Transit by JFK/AJVK -

John continues to exhibit fascinating images that challenge the viewer, allowing them an opportunity to attribute many different meanings to his work. This is the mark of a true artist....not just showing and telling BUT providing you with a series of stimuli and letting YOU interpret the work. Most likely no two viewers will reach exactly the same conclusions, but that is the power of John's work.

Color and shape are beautifully handled in this photograph. The contrast of the colors of the majority of the image with the sphere of color is striking. John also deviates from the "traditional" white mat and black frame with very striking colors for both....which strongly enhances the impact of this photograph.

This image does not have solid colors, but each color has a dominant fine structure which adds to the pleasure of viewing it. He controls your eye, moving it in the directions that he wants you to observe.

Looking through a long, red tunnel to a window of the world? Where does it lead to? What is seen through the tunnel? Why are we drawn to the blue? Why is there such an interesting sub-structures in the red and orange part of the image?

There are no obvious answers, but many more questions. That is what makes this photograph fascinating.

Abstract Free Form (Berlin)

by Jerome Kaye

-

Starting with conventional photographs, Jerome uses his formidable skills with Photoshop to convert them into fascinating abstract images. The observer often cannot fathom what the starting point was for each photograph, but can enjoy the end result.

This photograph looks like a reflection, but has fantastic details--rings, ripplets, color gradations and, maybe, based upon the photographer's background as a cell biologist, an amazing micro structure. There is symmetry and there is not symmetry in this photograph. A duality!

Random shapes and relationships with the larger structure are shown....with subtle color gradations and hints of colors different from the overall pallet of the photograph.

The viewer can either try to figure out technically how these images were created or they can just relax and enjoy the results of Jerome's creativity and artistry.

Veterans Memorial Bridge, South Side
by Ira Srole -

Ira is a long time documentary photographer for the City of Rochester, but this image, Veterans Memorial Bridge, as well as its neighboring North Side certainly document a well-known location in Rochester. Ira's current project, shooting evening and night views of Rochester, is more than documentation. Veterans Memorial Bridge is a mystery image full of magical light and dark shadows worthy of an X-Files episode. The yellow shaft of light emanating from the curved slot on the left side of the image draws our eye into the image and we are then introduced to the shadowy, almost translucent, character leading us into the light. The black railing running diagonally right-to-left supports us visually so we don't fall off the path. The bare branches under the large arch is our only indication that the path of light is actually above ground level and the small piece of guardrail in the upper right corner indicates that we are not at the top level either. The size of the person in this image lets us comprehend the weight of the object he is about to disappear into. The light, the geometric shapes, the lines, and the tonality of this image allow our mind to create interesting stories to compliment it. A really fun image to be sure!



New Course at Image City

Just One Flash by Don Menges, Sat., Feb. 25, 9am - 12pm
You cannot believe all the stuff you can do with just one flash! Join Don Menges as he starts from scratch and covers everything you need to know to get the kind of images you've always dreamed of when using your speedlite flash. You've got to embrace your flash, and in this class Don shares all the things he's learned over time to teach you the settings to use, how to control your flash wirelessly, how to diffuse the light, and how to do it all with a small investment.
This class contains a live, "studio" shoot that demonstrates how to put all of these concepts and equipment to work for you, both indoors and out. Your flash is a great instrument, and with the right settings, the right accessories, and the right attitude you will find it a tool you cannot go without. T
he fee for the course is $25, sign up at the Gallery. Additional details click here.
Image City Critique Group

Next Meeting is February 1 at 6:30pm
The Image City Critique Group begins the new year on Wednesday, February 1st, beginning at 6:30pm. Prepare to bring images you made of, and in, your living room. Remember these images need to indicate a "curve". Don has sent out guidelines via email. Contact him for examples.
dmenges@rochester.rr.com
.
The Magic of Light 2017
Thank you to more than 110 entries!

For the tenth consecutive year we are looking forward to our annual juried theme show at Image City. Titled -- The Magic of Light 2017, the exhibit of selected photographs will be from January 31 to February 19, 2017 at the Gallery.
Rowe Photo, Video, and Audio will join us in sponsoring the award prizes. Our call for submissions brought more than 110 entrants and we know that we will again have a superb selection of photographs to exhibit. The jury selections for the exhibit are underway and entrants will be notified within the next week or so. We are very grateful to all who entered and we appreciate your support!
Gilbert Maker, Gallery Partner
Chairman of the 2017 Juried Show at Image City.
Image City Photography Gallery, 722 University Avenue
January 29 Last Day of AtmaSpheres by Scott Matyjaszek

January 31 First day of The Magic of Light 2017 Exhibit
February 1 Image City Critiques Group 6:30pm
February 3 Opening Reception and First Friday Gallery Night The Magic of Light 2017
February 4 Second Day Reception The Magic of Light 2017
February 23 Just One Flash by Don Menges 9am - 12pm, New Course Offering
Image City Photography Gallery Hours
Tuesday - Saturday Noon - 6pm
Sunday Noon - 4pm
There is no admission fee to visit Image City

in the Heart of ARTWALK in the Neighborhood of the Arts
where our mission is to create a quality exhibition and learning experience for photographers and the art-loving community.