News of the current exhibit and events at Image City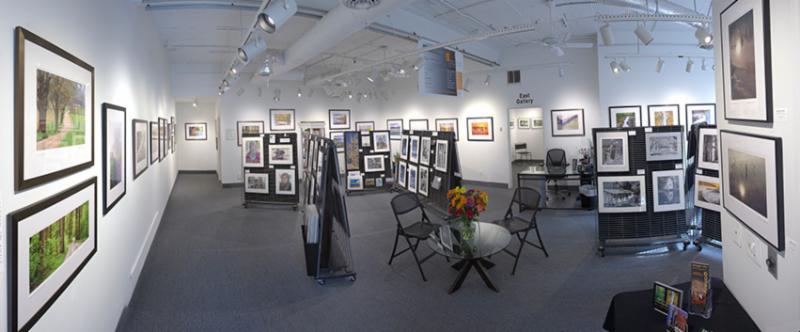 Image City Photography Gallery
Newsletter #127 February 2, 2018
For a web page version of the Newsletter, Click Here
We publish our Newsletter during each of our exhibits to pass along information and reviews of the exhibit, selected images and news of participation opportunities at Image City. We thank you for your interest and we look forward to another great year of fine photographs and events. We hope to see you at each of the 13 shows we produce in 2018.
First Friday Gallery Night, February 2 from 5 - 9 pm.
Our current featured exhibit at Image City is Community, by John Solberg, Steve Malloy Desormeaux, Don Menges and Gil Maker; each giving us their interpretation of four diverse communities. In recent years they have picked a theme that they individually interpret and have successfully produced an exhibit with very different communities, capturing each with there own styles of portraiture and and community environment. The communities they documented include Toronto, Portland and Bath, Maine, Cincinnati, local county fairs, Mexico, and the streets of Rochester. It is an exceptional visual display that emphasizes to us the diversity that the photographers sought, found, and conveyed.
Guest Photographers for the exhibit are Peter Blackwood, Nick Jospe, Anthony Paladino, and Mary Shelsby. They add much to the exhibit with their fine photographs ranging from a lunar series, to landscapes, to the Himalayas.
In the Neuberger Gallery, two Gallery Artists-in-Residence exhibit current work. David Perlman continues demonstrating his fascination with the mechanical, looking a bit abstract, at times, in a series of black-and-white photographs. Jim Patton continues his series of stunning portraits and landscapes encountered in his global travel -- recently to the countries of Armenia and Georgia.

Rounding out the exhibit are award-winning photographs from Camera Rochester competitions by Bonnie Gamache, Earl Jackson, Tom Kredo, Nikhil Nagane, and George Wallace as well as Gallery Photographers, Dick Bennett, Carl Crumley, Steve Levinson, Luann Pero, Betsy Phillips, Gary Thompson, Phyllis Thompson, and Sheridan Vincent.
Click Here to see our website listing and link to a preview of a stimulating selection of the superb photographs in the show. The exhibit runs through Sunday, February 18. First Friday Gallery Night is February 2, from 5 to 9 pm. There is no admission fee at Image City and the Gallery is accessible to all. Hours are noon-6pm, Tuesday through Saturday and noon-4pm on Sunday. We look forward to your visit and support of Image City and the exhibiting photographers.
Peter Marr's Picks of the Exhibit
After reviewing the photographs in the current exhibit Peter Marr selected four of his favorites and has written a commentary on why he made the selections. This is a popular feature of Image City exhibits, visitors enjoy reading Peter's insightful comments while viewing the photos.
| | |
| --- | --- |
| | |
Community #1 and #2 by Gil Maker Gil's refreshing, insightful and inspiring images were taken in the summer of 2017 when he visited 2 immigration communities, one in Bath and one in Portland, both cities in the State of Maine. In Community #1 and #2, both photographs are comprised of 2 prints, and it is obvious that the subjects were not posed, but they were certainly asked if they if not object to be photographed. Immigrants whose ethnicity differs from that of the host state or country all have mixed feelings of happiness and concern. It seems to me that the people in Gil's images have a refreshing and positive advantage in that they went to live in immigrant communities, where these minority groups retained the customs, languages and social views that they were familiar with. Certainly, Gil had great respect for the people in his images, and definitely there was no impertinent inquiry into their being. These are statements that manifest his aesthetic and humanistic concern. In Community #1, I love the relaxed atmosphere of the print, and the contrast between the elated and happy man at the right with the rather perplexed man in the foreground. The second image in this print has both happiness and comedic behavior rolled into one. The man whose attire is somewhat bizarre shows his affection for the lady in a somewhat funny and strange way, sort of like putting on a show for the photographer. In Community #2, it is lifting to see the genuine elation and exuberance of the two men sitting on the concrete door step, displaying a devoted friendship that one hopes will last a long time. The accompanying print also exudes devotion and affection, but in a more reserved way as though it was between a mother and her daughter. Gil's poignant images clearly show that immigration is a great life-changing experience, particularly if one moves into a community where the ethnic culture is very familiar and welcoming to everyone. Peter Marr
| | |
| --- | --- |
| | |
by Steve Malloy Desormeaux
4-H is an outstanding organization, and Steve's delightful and uplifting portraits beautifully illustrate the love and affection that young people have for animals, one small but important part in their overall goal to be partners and leaders in their community. From the images that were taken at various County Fairs, I was particularly taken with the study of 2 young 4-H participants interacting with a sheep whose fleece had recently been sheared off. The end result was an endearing triangle of joy and elation that would melt the heart of any observer who was lucky enough to view this print. The girl and the boy in this image emanate a warmth and tenderness that is both genuine an inspiring. There is both happiness and compassion in the young girl's face as she watches the boy's hand rub the sheep's head. The compassion is directed at the sheep, for how it must feel the loss of its coat, probably being shorn for the first time. What is especially noteworthy in this photograph is that it was not posed, so that what one sees is the naturalness of the occasion, resulting in an insightful situation of companionship and spirited bonding between the girl and the boy with themselves and the sheep. It is an imaginative learning experience for these two young people, and hopefully it will give them a good foundation in their quest to honor the 4-H pledges for an organization that contributes so much to their community. Peter Marr
| | |
| --- | --- |
| | |
The Negotiation by Don Menges Don's exceptional B/W images superbly unravel the fabric of human experience, showing us the community as he sees it, and invites the active engagement of the discriminating viewer. He has great respect for his subjects in the sense of an intense observer and not an intruder. The Negotiation is an outstanding example of Don's perception and creativity, capturing a Cartier Bresson moment that Henri would have been proud to have taken. This image is greatly enhanced by the use of the B/W media where the rich range of tones fully complement the total scene with expressive highlight and shadow detail. One is immediately aware that this is a classic and delightful urban gathering, a setting that has been repeated countless times over the years, though not necessarily with the same participants. All that is missing is the sound stage that would let the observer listen in to what the people are conversing about. For myself, and I hope for most viewers, I do not want to know what is transpiring here. This bus stop setting is a consummate opportunity for every observer to actively supply their own version of what is happening here. For myself, the white-haired gentleman looks in reasonable health, with no apparent disabilities, and would not be asking to replace one of the ladies on the bench. Furthermore, asking them to move over so that he could sit down would not be a good possibility, considering the relative sizes of the women, particularly the one on the extreme left. The third lady on the bench is obviously voicing some concern, as is the woman in the center. Ironically, the man on the far right is looking away, deliberately avoiding any possible conflict, whilst the man in the poster at the top right appears to be ironically amused by the whole situation. The bottom line is that this great image captures an uplifting community experience, that has been inspiringly photographed by Don for everyone to enjoy, admire, and think deeply about. Peter Marr
| | |
| --- | --- |
| | |
People of Chiapas #7 by John Solberg John's remarkable images of the Chiapas community is a great and passionate tribute to these wonderful indigenous people who live in the rural highlands of Chiapas. It is interesting to learn from his short biography that after armed revolt, constitutional reforms in 2001 successfully allowed these proud people to retain and preserve their cultural and spiritual heritage. Of all of John's prints, I particularly admired his photograph of 7 delightful children, expressing true community spirit with their arms around each other as though they were one. Simply dressed in well-worn clothing, they obviously were very willing to be photographed, probably pleased and honored as they represented the next generation that would carry on the culture and values of their parents and the community. These children were born and raised in this area, so there was a strong bond between them, and at this time they have limited knowledge of the outside world. At this stage in their life they learned exclusively from their parents and elders and from themselves. There seems to be a dogged determination in all of their faces, the only hint of surprise and excitement coming from the little girl at the far right. Her curiosity is in marked contrast to the girl next to her whose demeanor seems to show concern as to what is going on here. The 5 boys may have been taken a bit by surprise when asked to get together for a photograph although they certainly willingly participated. Two of them had been playing what is probably a popular pastime, spinning a small circular ring across a string that was tied to their thumbs. This operation although simplistic could be an important learning tool for such things as patience and dexterity. We are deeply indebted to John for taking and showing us these impressive and inspiring images, and our hearts and admiration go out to this Chiapas community who have in spite of severe hardship have fought so successfully to preserve their culture and heritage. Peter Marr
| | |
| --- | --- |
| | |
We are very grateful to Peter Marr for his thorough review and selection for Peter's Picks. Peter was born in England in 1935 and came to live in the United States in 1968. He worked for the Eastman Kodak Company for 34 years, retiring in 1998. During his employment and continuing into retirement, he has been an enthusiastic photographer. His photography has won him numerous awards throughout Kodak and in International Salons, including 5 George Eastman Medals, which is the top honor awarded to the most outstanding picture in the Annual Kodak International Salon. He has served as a judge in both local and international photographic competitions for the past 20 years, and is a Past president of the Kodak Camera Club and past chairman of many of the Kodak Camera Club organizations. In the past five years or so, he has devoted his photographic skills and interest into nature photography, notably bird photography. His bird photography has been the subject of several one-person exhibits, the most recent being at Ding Darling NWR, in Sanibel, Florida, The Roger Tory Peterson Institute in Jamestown, New York, and at the Webster Public Library in Webster.
Partners' Picks of the Exhibit

After reviewing the photographs by our Guest Photographer in the current exhibit, Gallery Partners selected our "picks" from the exhibit and added a written commentary on why we made the selection.
Snow Geese to the Moon by Peter Blackwood This is a magical photograph which showed the patience and "good eye" of the photographer. The moon is in a crescent phase, but it is not quite night, so the moon appears almost ghost like. Below the moon is an almost "constellation" of Snow Geese, white bodies reflecting the last of the light. Their black wingtips mark the end of their outstretched shapes.The grouping of geese almost look like they are either propping up the moon in the sky OR that the moon is releasing these birds to the earth. It is amazing how this relatively simple composition is open to various interpretations by the viewer. This image is beautifully composed, making a strong graphic statement with the just a simple combination of the rising moon and a "parade" of snow geese.
| | |
| --- | --- |
| | |
Himalayan Child #4by Nicholas Jospe Nick's wonderful exhibit of children assembled from images taken on a trip to Tibet, Bhutan and Nepal could just as well be titled, Through the Eyes of a Child. Engaging, smiling, inquisitive, fun loving, triumphant are all adjectives that could be used to describe the children who Nick encountered on his travels. I selected Himalayan Child #4 not only because of the clear interaction between the child and Nick, but also because of Nick's use of the compositional elements in his photograph. The subdued, but complimentary colors first attract the viewer to the image. The bold lines and rectangles are repeated throughout the frame. Nick places the child somewhat in the center of the picture, not always suggested as a good idea by photography gurus. Yet it works.
By using the diagonal lines of the house and window frame creates enough tension in the photo that centering the child does not make any difference. The light on the child's face is beautiful; just enough to highlight the face, but not too much to allow enough shadows to create depth and contours. The darkened room behind the child further pushes the facial features to the foreground of the image. This is a delightful and magical image to behold. Thank you, Nick for allowing us to 'trek' alongside as you encountered these children.
Winter Shadow by Mary Shelsby This wonderful large print by Mary draws the viewer into this landscape. The tree's shadows lead you into this beautiful setting. The trees are a major part of the composition, even though they are strong shadowy features of the composition.The evening sun is just setting, the blue sky will be soon gone, but it is still there with the colorful clouds reflecting the setting sun, providing a beautiful counterpoint color to the blue water and almost colorless trees. We look through the tree's silhouettes and notice that there are still some stubborn leaves not willing to leave their home. They pick up the colors of the sunset as an additional feature of this image.The use of the large format is very effective; it fills the viewer's eyes, focusing them on just this great landscape.Having this photograph on your wall would be a constant pleasure to view and get lost in nature's beauty.
Image City Critiques Group Meets February 7
The Image City Critique Group will meet on Wednesday, February 7th, beginning at 6:30 PM. We will be exploring simple techniques to improve images using PhotoShop and Lightroom. Please prepare 2 photographs you would like us to work on and use the link below to upload them.
NO PRINTS this month.

Please send the original un-edited JPG photos and keep your images at 300pi and as large as possible.

Rename them with your last name... menges1.jpg, menges2.jpg.

When you click the upload link you will given further instructions.
Image City Photography Gallery, 722 University Avenue
February 2, 5 - 9pm, First Friday Gallery Night
February 7, 6:30, Image City Critiques Group Meeting
February 18, Last Day of Community by Gil Maker, Steve Malloy-Desormeaux, Don Menges and John Solberg
February 20, First Day of Peter's Picks 2016 - A Retrospective
February 26, 5 - 8:30pm, Reception for Peter's Picks 2016 - A Retrospective
March 2, 5 - 9pm, First Friday Gallery Night
Image City Photography Gallery Hours
Tuesday- Saturday Noon - 6pm
There is no admission fee to visit Image City and we are accessible to all.
in the Heart of the Neighborhood of the Arts where our mission is to create a quality exhibition and learning experience for photographers and the art-loving community.