News of the current exhibit and events at Image City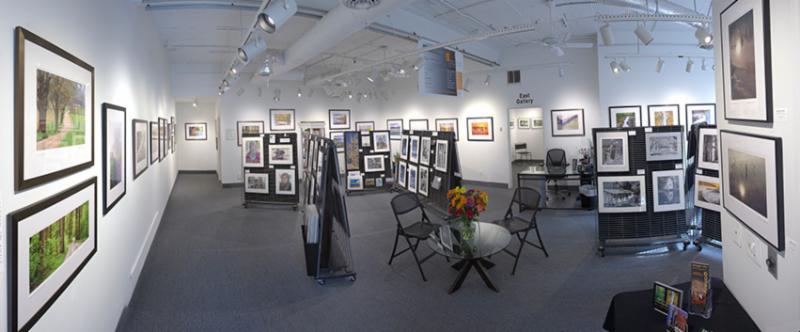 Image City Photography Gallery
Newsletter #130 April 28, 2018
Our Newsletter publishes during each of our exhibits to pass along information and reviews of the exhibit, selected images and news of participation opportunities at Image City. Thank you for your interest and we look forward to another great year of fine photographs and events. We hope to see you at each of the 13 shows we produce in 2018.
Current Show Runs Through Sunday, May 13
First Friday Gallery Night, May 4, 5 - 9 pm
Our current exhibit is Masks Spirits & Dreams by Steve Levinson, Gallery Partner. This show Steve presents a series of surrealistic photographs on three different but aligned subjects: Masks -- Mendon Ponds Park is transformed into an unreal wonderland of strange creatures; Spirits -- The ancient spirits of earlier residents share the reality of what you see today in Italy and Sicily; and Dreams - Unsettling photographs that may depict unconscious thoughts and dreams. Steve's objective of this show is to challenge the viewer and allow them to put their own interpretation on these images. These Black-and-White photographs are a new direction change for Steve since the Spring of 2017 and he is excited to share this new work with you.
Guest photographers in the exhibit are Lauren Howe in the Neuberger Gallery, JFK/AJVK, Boris Keller, Maggie Hamell, and Bob Pierce. Also featured in the show are award-winning photographs by Camera Rochester photographers, Bev Cronkite, Stan Hattman, Susan Kaye, Todd Owlett, and Loretta Petralis. We always enjoy the mix of returning and first-time exhibitors at Image City, their creativity inspires us all! Rounding out the exhibit is work by Gallery Partners and Artists-in-Residence, Dick Bennett, Carl Crumley, Gil Maker, Don Menges, Luann Pero, Jim Patton, David Perlman, Betsy Phillips, John Solberg, Gary Thompson, Phyllis Thompson and Sheridan Vincent.
Plan to attend First Friday Gallery Night on May 4 from 5 to 9 pm. This reception is a great opportunity to view the art, discuss it with the attending artists, and to invest in their photographs. Click Here to see our webpage for show details and a preview of photographs in the exhibit.
Peter Marr's Picks of the Exhibit
After reviewing the photographs by the Guest Photographers in the current exhibit Peter Marr selected two of his favorites and has written a commentary on why he made the selections. This is a popular feature of Image City exhibits, visitors enjoy reading Peter's insightful comments while viewing the photos.
Reach In by Steve Levinson -
This is definitely my favorite print from Steve's creative and monumental show. Before reflecting on it, I would like to compliment the artist on his imaginative use of the B/W media, and for the impressive and uplifting tonality that is present in all of these prints. In Reach In, I particularly admire the powerful 3D effect, and the more one looks at the image it appears to be almost real, and that the spirit of an earlier resident in the opera house is there all of the time It is very much like Andrew Lloyd Webber's musical, Phantom of the Opera, where the titled character is always present and sometimes is seen in person. In Steve's wide-angled image of part of the interior of the Palermo Opera House, he superbly captures the grandeur, ornateness and opulence of the building's interior, which especially highlights the rich patron's individual boxes. Out of the spectacular ceiling structures thrusts a giant man, with only his face and left arm visible. Such a huge and powerful presence could only have come from a sculpture or part of a painting, as evidenced by the extensive graffiti displayed on the massive arm and fingers of the man. The question any observer, including myself has to answer is whether there is or ever has been a connection between the Opera House and the giant man? He could not have been an opera singer, but maybe he could have been a stage hand. Perhaps earlier in time wrestling matches were held in the theatre, or even at the site before the Opera House was built. It is possible that the giant wanted to be on stage, or that he was angry there was not an opera at that time to listen to, for there certainly is an air of anger and concern on his face. It is not unlikely that spirits do haunt the Opera House, and although size-wise this man would not seem to fit the description, Steve's resplendent image is creative food for everyone to interpret what they really see - or think they see.
| | |
| --- | --- |
| | |
Hanging On by Steve Levinson - Steve's panel of print of actors wearing elaborate and often fearsome masks are dramatic, compelling and artistically choreographed. Masks are an important element in everyone's daily lives, particularly in the area of conversation. We all have a hidden mask, and when we speak to other people, what we say is received through their masks. The result is that often words and actions can easily be misconstrued and can lead to corrective statements such as "What I really meant was," and "What I thought I heard was." I chose Hanging On, to comment further on because it upliftingly captures the concept of fear and scariness. I admire the fact that the actor is wearing a featureless, drab outfit, so that all attention is directed at the ferocious lion-like head, where the teeth, fangs and menacing look appear very real that one is encountering a fiendish, untamed creature. Added to the demeanor of this beast is the outstretched fingers, although happily no claws are visible. Certainly, if such a creature really existed and confronted you in this forest setting, almost everyone would beat a hasty retreat. There is however a different scenario that is easily overlooked. The mask which has been deliberately put on by the owner, maybe a sign that this person is lonely and just wants to be that way. Disguise, however subtle, and this is not implied in this case, is a person's way of standing out or acting playfully, but it is more likely that it is someone who has problems. This depiction of an unreal world can very easily be a sign of the real world.
| | |
| --- | --- |
| | |
Desert Doomby Steve Levinson - We live in a world that is a mixture of compatible and incompatible elements. In the early 1920's, the surrealist art movement explored the idea of juxtaposing objects that are seemingly mutually exclusive in order to liberate the imagination and allow the unconscious to express itself. Steve's fascinating, amazing and ground- breaking exhibition of surrealistic images are a visual exploration or inquiry into our world, our emotions and our fantasies, and the viewer is invited to put their own interpretation on them. In Desert Doom, it is important to remember that there is no such thing as objective vision, we always choose what we see. Each person notices different things, but everybody sees people first, and if there is a face, then you cannot not look at it. With this haunting print, I envision a young Native American woman, even though her hair is fair, looking out reflectively and imposingly through a portal of a sky that creatively displays majestic cloud formations. Her piercing and poignant stare is not one of anger, but of sadness and awareness of what her proud ancestors place in the world could have been so much more memorable. The Desert Doom looks steadfastly out on a desert landscape where the wind has delicately carved intricate ribbons in the sand, nature's architectural grandeur at work in a desolate place. Across this moving expanse, footprints leave an indelible trail that starts out strongly, but wanders indecisively as they near the horizon. These steps reflect sadly of how she, and all of her fellow North Americans have throughout time, endured friendship, promises, hardships, and eventually the reality that they have been squeezed into insignificant areas very much like the desert that she is looking out over.
In addition to the Peter's Picks, Gallery Partners have selected three of their favorites from the Guest Photographers in the exhibit.
| | |
| --- | --- |
| | |
Still Life #2by Lauren Howe -Lauren's large still life photographs of flowers evoke the spirit of the Dutch master painters who captured every-day items (such as flowers, fruit, game, etc.), elevating them to pure poetry. They used, in a manner similar to Lauren, a black or very dark background to make the objects "pop". The large size of these photographs add to their drama, making this exhibit in the Neuberger Gallery wonderful to behold.Several educators in photography tell their students that they should "photograph their subject in a way that has never been done before". This applies to a travel photograph of the Eiffel Tower, a photo of their pet dog or any other subject they choose to photograph.Still Life #2 is a wonderful example of doing this. It departs from the more classical posed flowers of her other photos (which are also marvelous) in a very clever way. The flowers are facing the ground, looking like they have fallen off their stems as "old age" creeps up on them. They look more than just flowers, leaving the viewer to make their own interpretation of the meaning of this photo. Ballerinas, mountains, ghosts.... a great deal of possible interpretations can be made.Lauren uses a very deep focus technique to keep the entire set of flowers sharp. All parts of each flower are available to view without any issues with soft focus in the foreground or background. The colors are beautiful muted pastels.... the petals are semi-transparent showing their delicacy and transitory nature.This is a beautiful photograph, which goes beyond just being technically perfect and enters the world of being a strong artistic statement by Lauren.
| | |
| --- | --- |
| | |
CHIPSby Boris Keller - Boris states in his biography that he doesn't want to alter the subject in any way when taking the photograph, but functions as an observer. However, this photograph is not just a record, by selecting the subject and framing he includes a part of himself in creation of this photograph. This photograph is divided into four almost equal quadrants...each with its own character. The quadrants do work together...green, yellow, and blue, red with a gray sidewalk. The bench and woman (looking away from the photographer) add to the composition. The woman has white hair and a black dress, along with a light-colored coat. She brings daily life into the photograph. She probably sits there often, frequently a part of the scene. The entire photography could be a way of portraying comfort in the neighborhood.The storefront is green, offering breakfast with the casual legs of a patron in the doorway. They are dark and in shadows, allowing the viewer to discover this as they look at the photograph. This is very well composed and executed photograph, a lesser photographer might only show a portion of the scene, depriving us of the discoveries we find as we spend more time observing this photo.Chips upstairs is on a sign in bold graphic letters while below it is a hand-written sign on cardboard, casually drawn by hand. Another contrast to ponder.
| | |
| --- | --- |
| | |
Sunroom Dreamtimeby JFK / AJVK Please take a few steps back and look at the entire set of images. This is John, nakedly screaming thru art! This series is a collection of bits and pieces of life, shared with us. The montage of photographic elements is intended to be unspoken moments and memories captured in two dimensions. To critique a single image does not do it justice; the elements are interwoven and meant to surround us like a fantasy. A single element of the work begs us to interpret it as a Rorschach image. Each pulls out an emotion in us and then we try to see how it fits in the puzzle of our life. I chose Sunroom Dreamtime as the photograph that I would try to critique (interpret?). Three other images have this similar gold monolith in the center of the photograph. Two are surrounded by white and one by orange. All of them immoveable, large, powerful, and slow to change. The one surrounded in black drew me in. There are five layers of black, silver, and camouflage framing the form in this image yet it still resists. It's a captive in the darkness, yet it shines brilliantly. The scrawls and etchings on the surface indicate wear, communicating that it will be a long time before this pillar is significantly changed. It's unafraid in the night.
This is not a typical image review, but John's images are not typical. I know that each of John's photographs have special meaning to him. I hope he will accept my interpretation. If you see John at the reception, ask him about his intended meaning.
Nomad Girl by Bob Pierce This one photo is very different from the rest of the photos on display in Bob's exhibit. Instead of wonderful sharp and clear images of people, this image is purposefully not sharp, not well defined and becomes very mysterious. Almost surrealistic. As the woman walks the colors are beautiful as she moves, gliding, flowing with an upright body. Arms relaxed at her sides.The complementary colors in the photograph draw our attention, including a surprising splash of green. The woman is set apart from the background by the colors.....focusing the viewer's eyes on the woman. This photo is enhanced by the style that Bob has used and makes one wonder what is the story behind this woman, where was the photo taken, etc. etc. Photos that create questions demonstrate the creativity of the artist.
We are pleased to announce that Image City Photography Gallery in partnership with Kodak, Kodak Alaris, Lumiere Photo and Rowe Photo, Audio & Video are inviting you to submit your portfolio of photographs to one of the premier photography events in the area
Portfolio Showcase 2018 a Juried Exhibit
August 7 - September 2, 2018
Reception and Grand Prize Announcement August 10
Entries Must be Received by June 3
This is our tenth year for the Portfolio Showcase. We would like to invite your participation and submissions to this juried competition. A few details:
Each entrant submits a portfolio of eight images on a CD or online

From those submitted, our judges will select the eight best portfolios. They will be exhibited and offered for sale by the winners at our Portfolio Showcase exhibit in August of 2018.

The Gallery Partners will select the Grand Prize Winner from this elite group.

Prizes totaling a value of $3,000 awarded to the winners, generously offered by our sponsors.

We will publish a catalog displaying all eight winning portfolios; the winners will receive a copy and the catalog will be on sale at the gallery.

Those not fortunate to be selected are offered a free, optional review of their work. The competition judges will not be a part of these review sessions.

A link with our suggestions of what makes a good portfolio is provided on our web site.
Click Here for full details and the downloadable entry form. You can also get a hard copy of the entry form at Image City Photography Gallery, Lumiere Photo and Rowe Photo. You may also enter, pay the entry fee, and upload submitted images online. If you have any questions, please feel free to contact steve.levinson@ImageCityPhotographyGallery.com
Steve Levinson
Chairman of the Portfolio Showcase 2018
A Course by Steve Levinson
Creating Great Photographs with Adobe Lightroom
After taking this lecture and workshop course, you will have a workflow that you can efficiently follow for every photograph you make:
importing images into your computer so that you can easily find them at a later time

selecting the best images using an organized process

creating a customized creative digital image and then

making a fine digital print or posting on the internet.
Dates: May 30 and June 6, 13 and 20
Location: We will meet a the historic Pittsford Flour Mill, 15 Schoen Place, Pittsford
Price: The price for this course will be $175 and the class will be limited to a maximum of eight photographers. You can sign up and prepay for the course at Image City Photography Gallery. Click Link for details online at "Courses at Image City"-- Steve levinsonphotography.com
ArtisanWorks

Saturday, June 16, 2018
9:30AM - 6:00PM
Tuition - $175
Instructor - Don Menges
Dmenges521@gmail.com
PhotoShop -> PhotoShoot is a beginner to intermediate level PhotoShop class being taught at the home of one of the most interesting places in Rochester - Artisan Works. This is a basic to intermediate level PhotoShop class combined with a PhotoShoot inside ArtisanWorks. The class is limited to 10 people, so you may want to sign up as soon as you can. A laptop with PhotoShop installed is necessary.

Click Link for full details. You can register at the gallery. Please contact Don with any questions.
Image City Photography Gallery, 722 University Avenue
May 2 Image City Critiques 6:30pm
May 4 First Friday Gallery Night 5 - 9 pm
May 13 Last Day of Masks, Spirits, & Dreams by Steve Levinson
May 15 First day of The Face of Time Exhibit by Betsy Phillips
May 18 Opening Reception The Face of Time Exhibit by Betsy Phillips
Image City Photography Gallery Hours
Tuesday - Saturday Noon - 6pm
Sunday Noon - 4pm
There is no admission fee to visit Image City
in the Heart of the Neighborhood of the Arts
where our mission is to create a quality exhibition and learning experience for
photographers and the art-loving community.