News of the current exhibit and events at Image City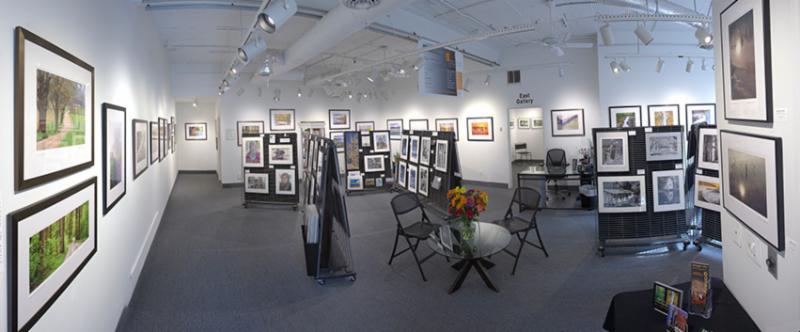 Image City Photography Gallery
Newsletter #133 July 20, 2018
Our Newsletter publishes during each of our exhibits to pass along information and reviews of the exhibit, selected images and news of participation opportunities at Image City. Thank you for your interest and we look forward to another great year of fine photographs and events. We hope to see you at each of the 13 shows we produce in 2018.
Europe '71 - '72: A Student's Perspective
Current Show Runs Through Sunday, August 5
First Friday Gallery Night, August 3, 5 - 9 pm
Our current exhibit, is Europe '71 ~ '72: A Student's Perspective, by Gallery Partner, Dick Bennett. Dick was fortunate to spend his junior year in college studying in Vienna, Austria. He traveled and spent time with 19 fellow students in a program that was part of his studies at St. Lawrence University. He lived with a family in Vienna and took every opportunity to visit much of western and some of eastern Europe. Photographs in his unique exhibit were digitized from the Ektachrome slides in a "travelogue" of his European experiences.
Michelle Turner returns to the Neuberger Gallery with a creative and varied series she has produced after recently traveling to exotic Easter Island. We are pleased to introduce a new feature at Image City, Chip Evra is a Visiting Artist, who will participate in three shows demonstrating his photographic talent, this round being "scenic" and "still life". Additional Guest Photographers are Clay Gehring, Susan Kaye, Michael Lempert, and Bob Simon. Gallery Photographers Carl Crumley, Steve Levinson, Gil Maker, Don Menges, Jim Patton, Luann Pero, Betsy Phillips, John Solberg, Gary Thompson, Phyllis Thompson, and Sheridan Vincent round out the show.
The show runs through Sunday, August 5. First Friday Gallery Night is August 3 from 5 to 9pm. Our receptions are always an enjoyable evening with refreshments and an opportunity to mingle and have discussion with the exhibiting photographers and other guests. With an exciting variety of photographers' work and experiences displayed in the exhibit you will surely find a fine selection of art; with many to enjoy, appreciate, and perhaps purchase to support the photographers efforts. Click Here to see our webpage for show details and a preview of photographs in the exhibit.
Following the installation of the exhibit, Gallery Partners selected five of their favorites from the Featured and Guest Photographers in the exhibit, presented here as our Partners' Picks:
Greece - Athens by Dick Bennett Dick has presented us with ten collages each containing a piece of his European trip in 1971 and 1972. It's important to recognize that Dick resurrected these photos from square Ektachrome slides processed in Europe in the early 70's. Once printed the edges were customized to complete a vintage style photograph.
I carefully reviewed each collage, as should you, before I settled on the Greece collection to review. The Athens set attracted me because pf the classic columns and hillsides. The Parthenon and the Theatre of Epidaurus are my favorite photos of this set and they are well documented in Dicks short bullet points.There are obvious exhibiting similarities in each set and this is what holds the complete presentation together along with a few posed single shots accenting the wall every so often. Along with the bulleted notes accompanying each collage, we feel as if we traveled along with Dick and his wonderful experiences.
| | |
| --- | --- |
| | |
Path Through the Oaks by Chip Evra Here is a photograph that immediately demands our attention when we see it. Just as if we were physically standing on location, we would have to walk toward the path through the natural entry arch made by the sentinel oak trees. It would guide our footsteps and as a photograph it guides our eyes to look into the photograph to see the narrow passageway where the path narrows. The arch is decorated by nature's texture and color with a pallet, warm in tone, with sufficient contrast against the natural green foliage so that the detail of the scene is dramatically enhanced. We know this scene is not "from around here" making it all the more exotic a photograph. We are visually aware of two image planes, the arching trees frame the entrance to the path and at the same time, we can pull back our focus to admire the trees and hanging vegetation. It is a pleasing image when we can focus on each of the planes back and forth and not feel obligated to adhere to any leading lines. Chip has balanced the color and contrast exceptionally well to hold our attention to the fine detail with nothing being lost or distracting to our view. Wouldn't it be even more pleasing if the photograph was larger to appreciate even more the fine detail of the scene, the bark, the leaves, the moss; it doesn't end. The photographs selected for this, the first of three exhibits by Chip as our first "Visiting Artist", certainly demonstrates his keen photographic eye and a mastery of print production and presentation. His two themes of "scenic" and "still life", very diverse selections, are so well done that we really look forward to his future exhibits in the months ahead at Image City.
Amiens by Susan Kaye What do you do when you have some time on your hands and you are bored. Susan hit upon a creative idea to take a photograph of a computer circuit board and take elements from that to create new images of real or imagined places. Amiens is a city in northern France near the Somme River where some of the heaviest fighting of World War I occurred. Built in the 13th Century, its cathedral is the largest in France and one of the largest in all of Europe. Fortunately, it escaped major damage during both world wars. Susan and her husband spent some time in France, so the Cathedral was a natural to duplicate.
Most photos of the Cathedral are from the front and positioned in the center. Susan choose to offset the cathedral creating more of a dramatic effect. The patterns she employs for the Cathedral are exquisite. One is able to picture the stone edifice, windows, spires and entrances. Placing triangular pieces of the board in the foreground provides leading lines to the subject of the art work. Susan artfully recreates the flying buttresses that provide support for the main walls using other elements of the board as well. Unlike some of the other photos, Susan decided to add an aspect of depth using other pieces of the board and lowering the opacity and making them appear smaller, so they look more distant in the background. It is clear that Susan enjoys the intellectual and artistic rigor and freedom in recreating the lines and angles of a circuit board into a fun work of art. What a marvelous idea.
Mona Lisa Smile by Bob Simon Bob has put together a wonderful collection of portraits making it difficult to pick only one from his portfolio. His use of black and white intensifies the drama in all of his photographs. But the Mona Lisa Smile has a mysterious quality about it that draws attention and admiration. Perhaps it's the simplicity, a simple and peaceful face and crossed hands standing out from a black surround. It creates a "presence" that can easily connect with the viewer. This is an example of light painting the scene, and the photographer capturing that magic is his photograph. The composition of the photograph holds our attention, too. The face, the hand moving to the left and the object at the left edge of the photograph form a triangle, and our eyes, moving around the image return to the face, to the eyes and to her Mona Lisa smile. Bob has created a meaningful story with his collection of portraits, and this photograph is a very memorable part of that story.
Rapa Nui Cemetery by Michelle Turner
Easter Island, a Chilean territory, is a remote volcanic island in Polynesia. Its native name is Rapa Nui. It's famed for archaeological sites, including nearly 900 monumental statues called moai, created by inhabitants during the 13th-16th centuries. The moai[S1] are carved human figures with oversize heads, often resting on massive stone pedestals called ahus. Michelle's collection of photographs from Easter Island fill the Neuberger Gallery so when you stand in the center you can almost feel the ocean breeze blowing your hair. This cemetery is place where it is possible to appreciate the religious syncretism of the Easter Island. Some of the tombstones are adorned with motifs that combine Christian and Rapa Nui iconography. You will notice in Michelle's photograph the many varying Christian symbols mixed with traditional moai figures. Michelle has done a wonderful job composing this photo. The stone border in the foreground pushes us into the image. The blue of the sky and ocean keeps us from exiting the photo from the top. The three taller structures stitch the photograph together as there is nothing else that breaks the plane of the horizon. Vegetation, along with little pops of red flower, is abundant and acts as the glue that keeps all of this mystery bound together.
Note: The Image City Critique Group will not be meeting in August..
Image City Photography Gallery, 722 University Avenue
August 3 First Friday Gallery Night 5 - 9 pm
August 5 Last Day of Europe '71-'71: a Student's Perspective.... by Dick Bennett
August 7 First day of Portfolio Showcase 2018
August 10 Opening Reception, 5 - 8:30 pm Portfolio Showcase 2018
Image City Photography Gallery Hours
Tuesday - Saturday Noon - 6pm
Sunday Noon - 4pm

There is no admission fee to visit Image City
in the Heart of the Neighborhood of the Arts
where our mission is to create a quality exhibition and learning experience for
photographers and the art-loving community.