News of the current exhibit and events at Image City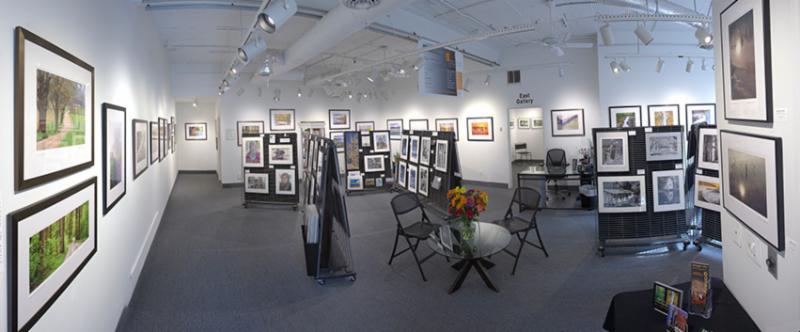 Image City Photography Gallery
Newsletter #134 August 17, 2018
Our Newsletter publishes during each of our exhibits to pass along information and reviews of the exhibit, selected images and news of participation opportunities at Image City. Thank you for your interest and we look forward to another great year of fine photographs and events. We hope to see you at each of the 13 shows we produce in 2018.
Current Show Runs Through Sunday, September 2
Our current exhibit at Image City Photography Gallery is this year's Portfolio Showcase 2018. Portfolios selected for the exhibit are by Edgar Ballestas, Mike Haugh, Chris Kogut, Tom Kredo, Joel Krenis, Harry Littell, Steve Malloy Desormeaux, and d. dargan teska. We have heard many compliments on the exhibit and the artistic creations by the awarded photographers. Congratulations to them all for their distinctive art and superb photography. The selections of the winning portfolios were made by two judges: Gunther Cartwright, Professor Emeritus of Photographic Arts and Photojournalism at the Rochester Institute of Technology, School of Photographic Arts and Sciences and Nick Marshall Manager of Exhibitions and Programs, George Eastman Museum. We very much appreciate their efforts in making difficult decisions from so many fine entries. Check out a following article to see examples from each of the selected photographers' portfolios.

The Gallery Partners awarded the portfolio by Edgar Ballestas with the Grand Prize. Each photographer received award certificates by the four sponsors of the exhibit: Kodak, for future printing with their NEXPRESS Press, Kodak Alaris for silver halide printing, Lumiere Photo for printing and framing services, and Rowe Photo for retail purchases. We very much appreciate the involvement and support of the exhibit sponsors and encourage you to support these exceptional businesses!
An exhibit in the East Gallery by Gary and Phyllis Thompson, Artists-in-Residence, feature photographs from their adventure right amongst the Brown Bears of Alaska. Visiting artist, Chip Evra's exhibit features two of his specialties, Animals and Street Life.
Also exhibiting their work are Artist-in-Residence, Jim Patton, and Gallery Partners, Dick Bennett, Carl Crumley, Steve Levinson, Gil Maker, Don Menges, Luann Pero, Betsy Phillips, John Solberg, and Sheridan Vincent.
With 21 photographers exhibiting their art, you will certainly find an interesting variety of both subject and style. We encourage you to visit, enjoy the art, and support the artists by making a purchase of their fine photography. There is no admission fee at Image City and the Gallery is accessible to all.
Portfolio Showcase 2018, the Book
Copies are Available for Purchase at the Gallery!
An additional award for the eight photographers selected for the Portfolio Showcase is the superb book that was designed by Gallery Partner, John Solberg. Each of the photographs in the exhibited portfolios is reproduced in the book. Copies of the book are available for purchase for $25 at Image City. Portfolio Showcase 2018 is a fine addition to any collection of photography books.
Critique Session for Entrants of the Portfolio Showcase 2018
We very much appreciate the interest and participation of all of the photographers who entered this year's Portfolio Showcase juried show. On Saturday, August 25, from 9 to noon we are offering brief critique sessions for the entrants to meet with gallery partners who will review your portfolio with you. Several Partners will be doing the reviews and you can meet with one or more of them, depending on availability. There is no need to bring anything, we will review the images from your submitted files. There is no charge for this review. We look forward to meeting with you and to your continued interest and participation at Image City Photography Gallery.
Selected Portfolios, Portfolio Showcase 2018

You can see the interesting diversity of subject and photographic style here with a brief description of the selected portfolios by the artists. You will want to visit to see the full portfolio and full statement by the artists.
Along the East by Edgar Ballestas
"In preparing for the Image City Portfolio Showcase, I wanted my collection to reflect urban cityscape images that are multilayered in each composition. The common theme of my selected photographs centered on cityscape images in New York City and a few in Toronto. As a native New Yorker, I have a sincere connection with urban landscapes and wanted it to be represented in this portfolio. Each composition was photographed using long-exposure to create dramatic images that enhance the large-scale design of city structures and display the beauty of urban skylines. Using bridges, railroad structures, docking pillars, piers, and the natural shoreline as leading lines to the urban skylines provided both a classical and unique look of these two cities. All of these images were taken during the evening, which magnifies the beauty of each scene with its illumination".
El Camino Siera by Mike Haugh,
"U.S. Route 395, 'El Camino Sierra', runs north from the Mojave Desert of Southern California through the Owens River Valley. To the west are the 14,000-foot peaks of the Sierra Nevada with Sequoia and Yosemite parks. To the east are the Inyo and White Mountains with numerous old mine sites and the 5,000-year-old Bristlecone Pine Forest. Ever since I left my California home in 1963, driving Route 66 across the country to college, I have been fascinated by the sight of long Western roads disappearing into perspective or curving around mountains and mesas. Where they lead and what one might experience beyond the horizon is endlessly exciting. I hope viewers share in that excitement as they look at these images".
Window Frost -- by Chris Kogut

"The frost patterns in these photographs were all formed on my bedroom windows. I look for discernible patterns reminding me of other things. Some are more obvious than others. I used my 105mm macro lens and filled the frame, often selecting a portion of the window frost that particularly caught my attention. Nothing has been added to what I saw with the exception of #3 which is a 180-degree vertical reflection of itself. The shapes in the photographs are "as-taken." White balance, contrast and highlight were adjusted, and sometimes a layer of low opacity color was added".
Backyard Jewels by Tom Kredo

"I've spent the last 10 years shooting flowers in the field lying down on my stomach using a macro lens, often with disappointing results. Wind, rain, harsh sun, ugly backgrounds, and no depth of field are the bugaboos of flower photographers. Maybe shooting flowers where they grow isn't what I should be doing? To shoot a flower exactly the way I wanted, I eliminated the outdoor elements. I waited to cut the flowers fresh, used a felt-lined Ikea table for my stage, and natural light from my office window. I traded the macro lens for a telephoto zoom and felt the exhilaration of something new. It was fun. I finally have soft light, no backgrounds and a complete flower in focus. The viewer can experience the simple beauty of these flowers, which often gets lost in their natural habitat. All of these flowers were found around my home. These don't bloom for much more than 2 weeks of the year, so timing was everything. I hope you enjoy them".
Symbiosis by Joel Krenis
"These photographs were taken during a month long trip to India and included a personal discovery about the culture which I'm calling "symbiosis." The level of mutual human-animal dependency is greater than any I have ever experienced. Animals of all varieties wander freely in most areas where there are humans: cows, goats, monkeys, dogs, snakes, elephants. They're pets, beasts of burden, objects of religious import, food, transportation, etc., all cohabiters of any human space you might find yourself in. The photographs are intended to reflect a symbiosis that goes beyond what we frequently encounter in the West. For example, the photo of the cow lying down in a clothing store, which I've titled Shirtshop Cow, taken in the holy city of Varanasi, is not the kind of scene anyone is likely to run across in the West. Nor, for that matter, is Third-Class Travel, the photo of a man riding in a truck (at 50 mph) in Rajistaan, sitting on top of his bull. Yet another example is the photo titled Camel Herders which depicts a family who live with, decorate, and adore their camels. All of my pictures are meant to capture some aspect of the intertwined lives of animals and humans in India".
| | |
| --- | --- |
| | |
Windows in Progress by Harry Littell
"I make collections of images looking at the cultural landscape: hand-painted signs, vernacular architecture, abandoned factories and emerging industries, buildings being erected, people in their work environments, downtowns in the early morning, and store window displays. I call the collection presented at Image City "Windows in Progress," the title taken from a Ralph Lauren window on Madison Avenue in New York City. For this particular image I stood still with my camera focused on the window and made a number of exposures as people walked through the frame. A person or a figurative sculpture in each image connects these curious tableaus. Whenever I visit a new place I walk the downtown streets reveling in the ways in which window displays interact with reflected street scenes. The eye tends to focus on either the interior or the reflection, but if you relax your vision a richly layered reality becomes apparent. The Parisian photographer Eugene Atget made beautiful use of this phenomenon. Lee Friedlander, too".
Dirt Karts by Steve Malloy Desormeaux
"Dirt Kart Racing is thriving in rural New York with over two dozen tracks in small towns across the state. Drivers can begin racing at age 5, and some continue to race into their 60's, though most are between 10 and 20 years old. Race day is a family event. Each driver has parents, siblings, aunts, uncles and grandparents assisting as their pit crew. They work on engines, help drivers suit up, deliver karts to the starting line and, of course, shout, cheer and take photos. Sometimes it's not clear if the sport is for the young drivers or for the fathers who spent hours tinkering and tuning the karts before the race".
Guardians of the Dunes by d. dargan teska
"My husband and I have vacationed in North Truro on Cape Cod for the past 8 years. We wait until mid-October so we can have the windswept beaches and the Provincetown Dunes to ourselves. I fell in love with the sky, the sand, the light and the fences! I imagine the fences to be soldiers, a regiment tasked with doing battle with Mother Nature in an attempt to preserve and protect this wild and ethereal landscape. Initially I shot the photographs in color, but the IR imagery captures the drama of the moment. Reducing the palette to grays and black and white makes for a more powerful photograph, painting the narrative with a brush that tells a more compelling story".
Partners' Pick of the Exhibit

Gallery Partners have picked their favorite photograph by the Guest Photographers in the exhibit, our choice for "Partners' Picks".
| | |
| --- | --- |
| | |
Make My Day by Chip Evra This is the second of three consecutive shows for which Chip is the "Visiting Artist" at Image City. And again, his photographs show his ability to work with different subjects; demonstrating both craftsmanship and artistry. He makes it difficult to select only one to write about.There could be no title more appropriate for this image of America's Bald Eagle. Chip's wonderful photograph has emotions telegraphed to the viewer. Is it anger? Frustration? Challenge? Defiance? The moving ruffled feathers, the claws sinking into the wood and the "looking-you-in-the-eye" stance could convince you that the bird really does have human-like emotions.What is amazing about this photograph is that it takes an "American Icon", the Bald Eagle, and shows it in a totally different way than the traditional pose in which the eagle is shown in a manner that radiates power and serenity. One of the marks of a strong photograph is to display "gesturer", be it a person, animal or inanimate object. The eagle's gestures strongly differentiate this photograph from so many other photographer's work. Chip's artistry creates a clear presence - the black background and the black shadows gives the feathers a magical quality and give intensity to the eyes so directly focused on the viewer. Yes, there is a momentary relationship - a quality that gives this photograph extra power. Thank you, Chip, for this and your other photographs!
Image City Critique Group Meets September 5

Image City Critiques is back at the Gallery beginning on Wednesday, September 5th beginning at 6:30 PM. The Image City Critique Group meets the first Wednesday of each month and it's free!. A topic is usually assigned the previous month so we can compare how each photographer approaches the same subject. Last June we made the September assignment "what I did on my summer vacation." We look at prints only and would like to have them be on at least 8.5 x 11-inch paper. Larger is better and matted is best! Contact Don Menges for additional information.
Join the 11th Scott Kelby Worldwide Photowalk, October 6
The 11th Scott Kelby Worldwide Photowalk will take place on October 6 from 9 to 11 am. Once again GIl Maker and Don Menges will be leading the walk in Rochester. We will be walking around the Neighborhood of the Arts. If you want more information or to register, please go to:
Image City Photography Gallery, 722 University Avenue
August 25, 9am - Noon, Critique of Portfolio Showcase Submissions by Gallery Partners
September 2, Last Day of Portfolio Showcase 2018
September 4, Opening day next exhibit by JFK/AJVK
September 5, 6:30 pm Image City Critique Group
September 7, 5 - 8:30 pm, Reception for exhibit by JFK/AJVK
Image City Photography Gallery Hours
Tuesday - Saturday Noon - 6pm
Sunday Noon - 4pm
There is no admission fee to visit Image City

in the Heart of the Neighborhood of the Arts
where our mission is to create a quality exhibition and learning experience for photographers and the art-loving community.