News of the current exhibit and events at Image City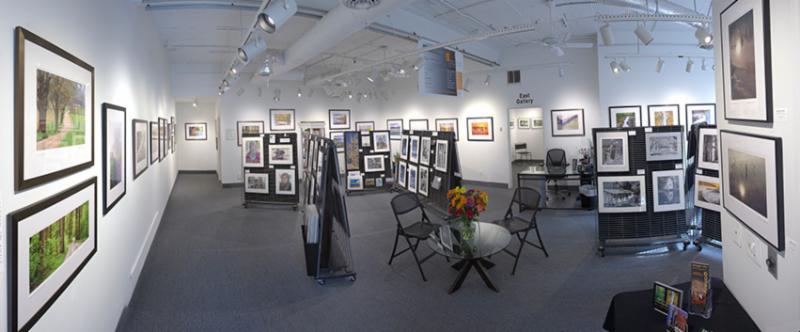 Image City Photography Gallery
Newsletter #135 September 14, 2018
Our Newsletter publishes during each of our exhibits to pass along information and reviews of the exhibit, selected images and news of participation opportunities at Image City. Thank you for your interest and we look forward to another great year of fine photographs and events. We hope to see you at each of the 13 shows we produce in 2018.
by John Kosboth, JFK/AJVK
Current Show Runs Through Sunday, September 30
Our current exhibit at Image City Photography Gallery is SNAFU by John Kosboth, JFK/AJVK, where John certainly demonstrates his creativity and the breadth of his art. The exhibit considers city and county environments, culture, and realities, including gun culture. With his portraits "of people who were willing to share a bit of their life in conversation with me," he shows us visually, artistically and emotionally more than we typically see with head-shot portraiture. With the featured photograph presented on a grand scale and chosen as a Partners' Pick, My Mind at 89, we savor "a montage inviting us into memories, thoughts, and emotions". John has been a regular participant going back to the early days of Image City. We relish his participation and his art!
Paul English has produced an exhibit in the Neuberger Gallery demonstrating bird photography at its best with both portraits and birds in flight. Paul uses a tracker, designed and manufactured by him and a business partner to assist with his capturing amazing bird-in-flight photos. Chip Evra returns in the final, third exhibit this summer as a Visiting Artist. Additional Guest Photographers are Jim Dusen, who has exhibited with us each year for 11 years, Larry Eldridge, Nancy Ridenour, and John Retallack. Camera Rochester photographers return, exhibiting award-winning photographs from their competitions -- Michael Keaton, Tom Kredo, Nikhil Nagane, Sheila Nelson, Paul J. Shew, and Michelle Turner. We round out the show with the photographs by Artists-in-Residence, Jim Patton, Gary Thompson, and Phyllis Thompson and Gallery Partners, Dick Bennett, Carl Crumley, Steve Levinson, Gil Maker, Don Menges, Luann Pero, Betsy Phillips, John Solberg, and Sheridan Vincent.
With 25 photographers exhibiting their art, you will certainly find an interesting variety of both subject and style. We encourage you to visit, enjoy the art, and support the artists by making a purchase of their fine photography. There is no admission fee at Image City and the Gallery is accessible to all. Click Here to see our website listing and a link to a preview a selection of the superb photographs in the show as well as picks of our favorites.
Following the installation of the exhibit, Gallery Partners selected five of their favorites from the Featured and Guest Photographers in the exhibit, presented here as our Partners' Picks:
| | |
| --- | --- |
| | |
My Mind at 89by John Kosboth On all these walls, an amazing display of photographs, that John insists on calling snapshots, which take the viewer from country to city to portraits from the street - all of them touching what is real - there, to see with outer vision. And here is an expression of the inner sight- created by a so-creative mind, woven and layered with color, shape, images, poems and patterns. "My Mind at 89" is a montage inviting us into memories, thoughts and emotions. We might ask, so what is John saying, what does it mean? But better still, we can take a trip across the canvas. Right there in front, there's a young man with his arm over the shoulders of another - a someone, maybe anyone, maybe you, walking into the stories spread out before us. There, the swings, empty, but the shadows of those unseen, swinging. A woman's face with eyes upon us. Poems of loss and the beauty of remembrance, and in the many small windows there below the flag spread out in the wind are remembered faces. See that space of white and at one end a tiny lonely tree. And there again are couples walking, small...yes... and being seen. A hand and a wedding ring, a red horizon and turbulence. Faces, perhaps a tear, a crow, a circle filled with moving shapes and there, too, a face. Echos from the roofs and a robin's egg. The rushing car throwing multi-colored dust into the world, a field of green, the floating landscape, a jump or is it a reach for a rope - what it is (or not) can be a guess. The Moon, a pair of graphic hands, the one had touched the other, leaving oh so faint a trace. It holds a rose that casts its shadow on the ruffled tie unfolding from the whitest collars, and reflections. Look closely. There is so very much more. Let your own world unfold as you see.
Electric Western by Jim Dusen Jim has been showing at the gallery for 11 years! The Partners really appreciate his support of the Gallery as well as his photographs over the years. This work is a departure from many of the photographs he shown in the past and it shows the breath of his skills in making excellent photographs. The iconic western portrait technique is used for the bulk of the photographs in a very effective manner. Electric Westerner takes these photographs one step further and introduces very interesting post processing techniques that bridge the gap between the old-time west and the electronic age. It's amazing to see this one photograph among the other classic portraits, offering a strong counterpoint to the grizzled and bearded man of the old west. Jim takes a risk in deviating from the theme of the rest of his photographs, however this risk was definitely worth taking and makes this overall exhibit and even more interesting one.
Great Blue Heronby Paul English Paul has provided a wonderful series of photographs of birds, many of which are in flight. The majesty of these creatures is wonderful to behold, and Paul has done an excellent job capturing them in active scenes showing their grace and beauty. Paul uses new technology to make the capturing of birds in flight within the frame of the camera, an apparently great improvement over the more traditional methods of photographing birds.
Great Blue Heron is a beautiful example of these photographs. The spread of the wings is so graceful, almost hypnotic in its beauty. He wonderfully captures the feathers in their elegance and the defocused background provides such a rich color pallet . The heron flies suspended in the air, legs trailing behind, wingtips flared.The skilled use of the tracker and the equally skilled image preparation and printing has led to a wonderful collection of startling photographs of these beautiful birds.
1940 Ford Deluxe Coupeby John Retallack
John has not lost his attention to obtained from his earlier years as a product photographer. Each image in this series of taillights is tack sharp and beautifully displayed. As John has stated, body design of these older vehicles evolved slowly in the early years and taillights and headlights were the opportunity for designers to be more creative. Each of the taillight photos in this collection has been treated as a portrait, one of John's other favorite genres. In the" image John has captured the sharp angularity of the red chevron-like taillight against the smooth and deep curve of the black rear quarter panel.
| | |
| --- | --- |
| <![if !vml]><![endif]> | |
Two Blue Herons and Chicksby Nancy Ridenour Nancy has provided us a wonderful collection of Florida birds. Each is rich with color on canvas gallery wraps. Two Blue Herons and Chicks is the one that resonated with me as it's so impactful, both with the source of light and the "dance" where the parents of these young chicks seem to be frozen. Light is one of the elements that direct our attention in a photograph. Focus is another. In this photography both elements lead us directly to the parents and the chicks. There appears to be two light sources. One is directly on the four birds and the other lights the background. Together with the dark framing element and the difference in focus, the birds seem to be lifted off the background. Nancy has been making photographs for only a short time, yet all her photos are exceptional. This one, in my opinion, stands out from the others.
Portfolio Showcase 2018, the Book
Copies are Available for Purchase online!
Following the success of the last exhibit, our Portfolio Showcase 2018, we sold out of the superb book that was designed by Gallery Partner, John Solberg. Each of the photographs in the exhibited portfolios is reproduced in the book. You can still order a copy online available for purchase for $25 plus shipping at this link. Portfolio Showcase 2018 is a fine addition to any collection of photography books.
Image City Critique Group Meets October 3
The Image City Critique Group meets the first Wednesday of each month. We are assignment based and print only. For the October meeting the assignment is to make photos of a tree, not tree(s). You can bring 2-3 images of the same tree or different trees. Please contact dmenges521@gmail.com for more information.
Join the 11th Scott Kelby Worldwide Photowalk, October 6
The 11th Scott Kelby Worldwide Photowalk will take place on October 6 from 9 to 11 am. Once again GIl Maker and Don Menges will be leading the walk in Rochester. We will be walking around the Neighborhood of the Arts. If you want more information or to register, please go to:
Image City Photography Gallery, 722 University Avenue
September 30, Last Day of SNAFU by John Kosboth, JFK/ AJVK
October 2, Opening day next exhibit by B & W Invitational
October 3, 6:30 pm Image City Critique Group
October 5, 5 - 8:30 pm, Reception for next show, B & W Invitational
October 6, 9 - 11am, Scott Kelby Worldwide Photowalk
Image City Photography Gallery Hours
Tuesday - Saturday Noon - 6pm
Sunday Noon - 4pm
There is no admission fee to visit Image City
in the Heart of the Neighborhood of the Arts
where our mission is to create a quality exhibition and learning experience for photographers and the art-loving community.