News of the current exhibit and events at Image City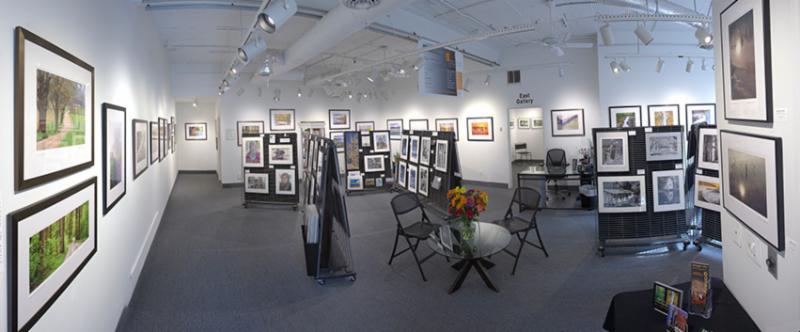 Image City Photography Gallery
Newsletter #147 August 16, 2019
Our Newsletter publishes during each of our exhibits to pass along information and reviews of the exhibit, selected images and news of participation opportunities at Image City. Thank you for your interest and we look forward to another great year of fine photographs and events. We hope to see you at each of the 13 shows we produce in 2019.
Current Show Runs Through Sunday, September 1
Our current exhibit at Image City Photography Gallery is this year's Portfolio Showcase 2019. Portfolios selected for the exhibit are by Dick Beery, Saikat Chakraborty, Biagio Dell'Aiera, Katherine Driscoll, Tom Kredo, Susan C. Larkin, Nikhil Nagane, and Avi Pryntz-Nadworny. We have heard many compliments on the exhibit and the artistic creations by the awarded photographers. Congratulations to them all for their distinctive art and superb photography. The selections of the winning portfolios were made by two judges: Dan Larkin, Associate Professor in Fine Art Photography at the Rochester Institute of Technology, School of Photographic Arts and Sciences and Nick Marshall Manager of Exhibitions and Programs, George Eastman Museum. We very much appreciate their efforts in making difficult decisions from so many fine entries. Check out a following article to see examples from each of the selected photographers' portfolios.
The two judges selected the portfolio by Dick Beery for the Grand Prize. Each photographer received award certificates by the sponsors of the exhibit: Kodak Alaris for silver halide printing service, Lumiere Photo for printing and framing services, and an award payment by Image City. The Grand Prize Winner also recieved a color printer from Epson and a one year subscription to Adobe Creative Cloud Photography Plan. We very much appreciate the involvement and support of the exhibit sponsors and encourage you to support these exceptional businesses!
In the Neuberger Gallery we feature the culminating exhibition of a 12-week photography and writing program, Eyes Front, at Flower City Arts Center for six local female combat veterans. The Eyes Front program, in partnership with the Rochester Vet Center, give these women an opportunity for them to express, both visually and in writing, their unique experiences and to share their stories with the community. The title of this exhibit is First Light: Photographs by Women Combat Veterans.
Also exhibiting their work are Artists-in-Residence, Jim Patton, Gary Thompson and Phyllis Thompson, and Gallery Partners, Dick Bennett, Carl Crumley, Steve Levinson, Gil Maker, Don Menges, Luann Pero, Betsy Phillips, John Solberg, and Sheridan Vincent.
With more than 25 photographers exhibiting their art, you will certainly find an interesting variety of both subject and style. We encourage you to visit, enjoy the art, and support the artists by making a purchase of their fine photography. There is no admission fee at Image City and the Gallery is accessible to all.
Portfolio Showcase 2018, the Book
Copies are Available for Purchase at the Gallery and Online!
An additional award for the eight photographers selected for the Portfolio Showcase 2019 is the superb book that was designed by Gallery Partner, John Solberg. Each of the photographs in the exhibited portfolios is reproduced in the book. Copies of the book are available for purchase for $25 at Image City. Portfolio Showcase 2019 is a fine addition to any collection of photography books. The book is also available for online purchase click here.
The Selected Portfolios, Portfolio Showcase 2019

You can see the interesting diversity of subject and photographic style here with a brief description of the selected portfolios by the artists. You will want to visit to see the full portfolio and full statement by the artists.
| | |
| --- | --- |
| | |
Looking Directly Up by Dick Beery "Picture composition is an area that has additional rules: Rule of Thirds, never have the horizon in the center of your photo, leading lines, C curves, S curves, tell a story, and many more. One of the comments usually made at a photo workshop is that it is always good to look behind you. You may have a wonderful scene in front of you, but you may be missing one in a different direction. Over the past 10 years or so, I have started to Look Up. This can take many different forms like clouds, the Milky Way, spiral stairs, ceilings and other upward scenes. My exhibit at this Portfolio Showcase takes the Looking Up idea to the level I call "looking directly up." I suppose you could call the theme Chandeliers or Light Fixtures, but what is directly above you may also be a something else, thus Looking Directly Up fits well. These photos probably break all the rules of composition, but they create the effect I wanted. There is a certain amount of danger present in taking this type of photo. You cannot see who you might be walking into and it is hard to keep your balance and keep the focal plane perpendicular to the subject while centered directly under it. The results in these photos are what I hoped for and I am very honored that I was chosen to be part of this show. (No bones were broken in the taking of these photographs!)"
More than a Rock by Saikat Chakraborty
"I use the camera as a tool to express my love for Nature. Though the natural world is overwhelmed by human footprints, it is still possible to experience solitude and wildness and discover our roots. The great outdoors of the United States has given me a true taste of this wildness since I came here as a graduate student five years ago. Although I have visited quite a few iconic places in the United States, I believe that only when we repeatedly return to a place, can look beneath the surface and start discovering its true spirit. During my initial visits to some of these places, I have captured the classic grand vistas which many others have done far better before me. However, over time, I have tried to create more personal images, reflecting my sensibilities and my reactions to the diverse beauty of this place. Through my images, I strive to go beyond the documentation of these experiences and express my understanding of this connection that we all share with Nature. I hope the fruits of my artistic vision will also bring joy to viewers and encourage them to be outside".
| | |
| --- | --- |
| | |
Service by Biagio Del'Aiera "Biagio Dell'Aiera is a photographer that has always been drawn to the people of the world and led by their stories. He has been focusing his energy to understand the workings of the service industry, shedding light on the overlooked areas that go into daily experiences in and out of restaurants and eateries. He was raised by an Italian immigrant father and a first generation mother of Greek heritage, and that has influenced his world view and the people and places he photographs. The Italian and Greek food culture has been a part of his life, from sweeping the floor at the family business at a young age to peeling boiled potatoes as a 9 year old in his Greek family's diner. Exploring continues, and admiration of the work ethic shapes the Biagio's photography on a daily basis. Service Service is a look into the food industry and the individuals who play a key role in creating great experiences for all who come to enjoy their eateries. The chefs and waitstaff are just the beginning. It takes a village to make a night out happen. This is that village".
With Prospect and with Frost (Life's a Beach) by Katherine Driscoll "Melancholy can look a lot like romance depending on your angle - obsessing looks like longing, the end looks like the beginning, snow looks like sand. Like the Romantics before us, a generalized feeling of loss has led to the lamenting of a set of circumstances that are, however unjustly, no longer available. Nostalgia has become a coping mechanism for this heartbreak, both personal and cultural, looking backwards while inevitably moving forward. With Prospect and with Frost (Life's a Beach) is a love story about the trials of transition, both psychic and geographic, and the authenticity and hope one can find within alienation. Sequencing and syntax allude to the wandering mind navigating love and loss, at times lyrical and dream-like, at other times more grounded - rambling between time-frames and circumstance, self and other, here and there, reality and fantasy; "now a landscape, now a room" (Benjamin)".
| | |
| --- | --- |
| | |
Family Portrait by Tom Kredo "My immediate family are the models for our Family Portrait a collection of images through an ordinary glass building block. The inspiration started with a photo of my good friend, Dana, taken while we were walking in Fairport NY. He posed for me on the other side of a glass block facade at a park building. Computer manipulations of the images are minimal. The distortions are as the camera viewed them through the glass. Portraiture captures a person as interpreted by the photographer. In this case, it is the glass block that provides the dream-like mercurial interpretation. The glass is a portal to "see through a glass darkly" as Corinthians 13:12, or to see through Alice's Looking Glass at an unfamiliar and unexpected face. The twisted contortions are at first repulsive, as if the subject was involved in a tragic disfigurement. Pausing to consider awhile, we see that those human characteristics of strength, beauty and intelligence still radiate from the image in spite of our desire to look away".
Remnants and Seed Pods -- Stop Here! by Susan C. Larkin "My close-ups are studies of shape, texture, patterns, and light. When I'm attracted to a plant remnant or seedpod, I want to study it. In the field I'll revisit the same plant and sometimes take a bit home for further study. I hold it at different angles, in different light, and at different times of day. Somewhere there is a position or reflection that says, "Stop here." Curves, reflected light, transmitted light, and relationships between the parts come together. When I like an image, and better yet, when I still like it after time has passed, I add it my collection".
| | |
| --- | --- |
| | |
Aerial Landscapes by Nikhil Nagane "I am a photographer based in Rochester, NY with roots in India. Landscape photography has been my prime area of interest for several years. I enjoy nature and outdoor activities, and landscape photography always goes well with those activities. I have believed that spending time in nature is the only way to truly find the inner self. "Between every two pines is a doorway to a new world" is one of my favorite quotes by John Muir. It has always given me inspiration to go back to the same locations to find new compositions and new photo opportunities. I compliment my landscape photography with aerial photography to explore new perspectives in the landscape. I always try to capture the mood and the emotions in my pictures that I felt while taking them. Hopefully my pictures will convey those to some extent. There is still plenty to learn for me and I intend to keep doing so. In this portfolio I take a look at some usual landscapes from unusual vantage points. All the images in this portfolio were captured with an aerial camera (drone). The change in point of view gives a completely new perspective to these landscapes. The portfolio focuses on the relationship between land and water; and the way the water molds the ordinary landscape. In the bird's eye view of these landscapes, the fine details on the surface of the water and land meld together leaving behind simple yet colorful shapes, curves and patterns. Hence, the images have an almost abstract look to them. Hopefully, the abstract nature of the images will challenge one's power of imagination".
| | |
| --- | --- |
| | |
Beyond the Circus Tent by Avi Pryntz-Nadworny "Growing up in Rochester, NY, I spent my youth bouncing between a fascination with animation and a playful obsession with juggling and gymnastics. My interest in animation eventually brought me to Academy of Art University in San Francisco, where I studied Graphic Design and New Media before deciding to join the circus school in Quebec City, Canada. A year later, I landed a job with Cirque du Soleil and began working as an acrobat and fire juggler. During my career as a circus acrobat, friends and colleagues began approaching me for photo and video shoots; soon what started as a few odd jobs turned into a passion. I observed that circus performers can appear larger than life on stage, as the presentation of circus makes it difficult for the viewer to relate to the individual performers. As a response, I create dynamic portraits that capture both the performer's physical ability and their identity. Stripping away the circus tent, costumes, and make-up, I allow the viewer to see the humans behind the spectacle. All the physical feats in these photos are real, although some may appear unbelievable. I feel it is important to acknowledge the many hours of training and dedication the performers have put into their craft; I am proud to help share their talents with you through this exhibition".
Partners' Pick of the Exhibit

Gallery Partners have picked their favorite photograph by the Guest Photographers in the exhibit, our choice for "Partners' Picks".
Ghost Station by Nicholas Jospe
The title of this engrossing photograph summarizes the haunted feeling Nicholas has provided by a clever use of both the selection of the subject and the lighting. Much of the detail in the original structure is still visible from the doors to the windows, under the edge of the roof. Deterioration can be very engaging to the viewer, and this aging is demonstrated by the house, which was probably once a place of vibrant life. The remnants of the building's previous life still exist. The chair at the front door reminds us that people used to sit here and look out at the country sided. We can still see the 2407 on the building, almost out of place as who would be looking for this address today? Darkness is coming, with the sun setting, further reinforcing the mood conveyed by this photograph. Black and white is the ideal format for this photo, adding to the mystery of this dark and moody building. This demonstrates also the quality that can be achieved with creative use of an iPhone while on a bicycle...slowing yourself from the high speed of an automobile ride to a slower pace which encourages seeing and looking at building which would otherwise be passed by.
Image City Critique Group Meets September 4

The Critique Group will meet again on Wednesday, September 4th beginning at 6:30 PM. We will continue to meet on the first Wednesday of each month after that. The assignment for the September meeting is to bring 2 or 3 of your best photographs that say "summer?" If you have any questions or concerns please email Don Menges; dmenges521@gmail.com
Even though it's still August, plans are in place for our annual The Magic of Light show in January 2020. We've moved the registration period two weeks earlier to provide you more time for printing and framing the selected photographs before you drop them off at the Gallery. Entry forms will now be due in early November. Look for registration and submission information in mid-September when we rollout the Call for Submissions.
Image City Photography Gallery, 722 University Avenue
September 1, Last Day of Portfolio Showcase 2019
September 3, Opening day next exhibit Around Rochester by Sheridan Vincent
September 4, 6:30 pm Image City Critique Group
September 6, 5 - 9 pm, Reception for Around Rochester by Sheridan Vincent
November 23, Workshop with Don Kamarechka - Macro Water Droplet Workshop
Image City Photography Gallery Hours
Tuesday - Saturday Noon - 6pm
Sunday Noon - 4pm
There is no admission fee to visit Image City

in the Heart of the Neighborhood of the Arts
where our mission is to create a quality exhibition and learning experience for photographers and the art-loving community.